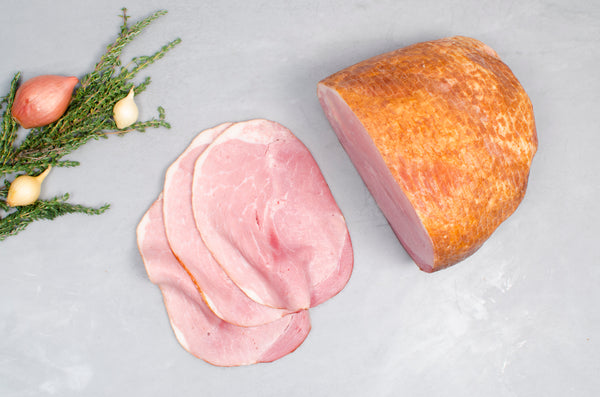 Wine and Beer Pairings for Ham
We spoke with Jeff Porter, Del Posto's acclaimed wine director, to get some tips and inspiration for pairing wine and beer with our salty cured ham. We Gave him two hams, both American, and asked him what he thought. Here's what he picked…
1. Makes a killer Ham & Swiss sandwich and go for a high altitude white – a Swiss white would be great (those can be hard to find) so a delish Pinot Bianco from Alto Adige in Italy is perfect.
2. For brunch – sear it up, serve with pancakes and have some Champagne or other yeasty sparkling wine.
3. By itself from the fridge (so it is cold) an East Coast IPA – not as hoppy as a west coast IPA but has the bright and fresh palate to keep the richness in check.
An amazing cut of pig! The balance between sweet, savory, fatty and salty was perfect. There are a lot of beverages that I would enjoy consuming with the cured ham, but as always it depends on how you use it:
Classic: A super dry white from Spain would be really delish with this – a white Rioja or my fav Spanish wine – a Fino Sherry or better yet a Manzanilla (a sub sect of Fino Sherry)
America: I could take this 3 ways – beer/wine/booze
Beer: An American example of Saison beer would be really good with this – the citrus notes and brightness balance out the rich flavor
Booze: Go whiskey based cocktails or a sweet version of Bourbon on the rocks like Four Roses Single Barrel
Wine: We can go a few different ways – I really like sparkling wine and the bright acidity mixed with the richness of the yeast work well with the ham – thin Schramsburg Blanc de Blanc or Roederer Estate Brut NV – I also think a classic Sauvignon Blanc from northern California would work really well – again – it is about balancing the salty/richness of the ham.
No expense spared: If you want to go "hog wild" – I would go Champagne – lean on a richer style of Champagne – something with oomph – like Krug
Other wine pairings: Friulano from Italy, A Riesling from Germany (from the Rheingau or Rheinhessen) – the best thing is that the ham is very versatile