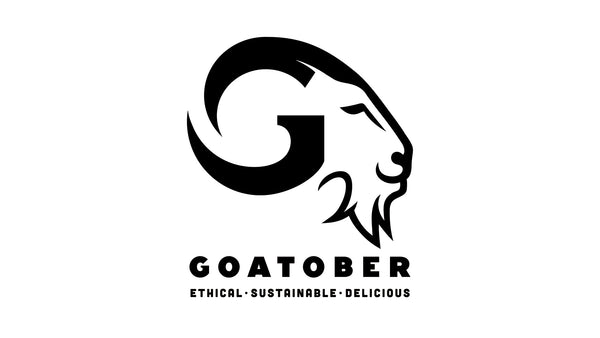 What is No Goat Left Behind?
No Goat Left Behind is a serious effort launched in 2011 by Heritage Foods USA designed to introduce goat meat to American diners and provide a sustainable end market for dairy animals. Without an end market farmers must face difficult choices each spring when the kids are born. [Did you know that most goats have twins or triplets?]
You may also be surprised to learn that goat is the most widely consumed meat in the world with a rich and diverse culinary history. Most American's have only had goat once or twice, usually in an ethnic restaurant when they where feeling bold. The flavor of our goat is delicate and grassy the cuts are similar in size and composition to lamb.
Goat is a seasonal animal and this October our goal is to sell 1000 animals. Over 14 family farms and almost 100 restaurants have committed to participate in No Goat Left Behind. Our partner farmers will raise their goats to Heritage Foods USA's specifications, guaranteeing pasture-raised animals with no growth hormones or antibiotics. Our partner chefs will create a cornucopia of delicious dishes and recipes.
Goat dairies are in the business of making cheese. To make cheese you need milk, and to get milk each season the goats must have babies. In a weird way these babies are a bi-product of a farm that is looking to produce milk. The labor and feeding costs of caring for these babies is significant. Since the farm needs the mother's milk to produce cheese, the babies are fed on expensive milk replacer, a goat version of baby formula. Without a dependable end market for these animals farmers simply cannot take on the financial burden and must face hard choices like selling the animals into the commodity market at a few days old or even killing them at birth.
You can change this reality by purchasing goat meat each fall from a trusted butcher like the Heritage Meat Shop in New York's Historic Essex Market, eating in a restaurant that participates in the project or buying and cooking some goat yourself through our mail order program. However you choose to participate, we applaud your commitment to shaping a food system we can all be proud of. One that respects the realities our nation's farmers face and honors the animals we consume.
Last year participating restaurants included:
New York City: Al Di La, Babbo, Bar Boulud, Back Forty, Becco, Betto, Cleaver Company, Colicchio and Sons, Corsino, Community Food and Drink, Egg, El Almacen, Employees Only, Fatty Crab Downtown, Fatty Cue, Fatty Cue Brooklyn, Fette Sau, Gramercy Tavern, Heritage Meat Shop, Isa, Lincoln, Lupa, Maialino, Má Pechê, Minetta Tavern, Momofuku Noodle Bar, Momofuku Ssam Bar, Momo Sushi, Northern Spy, Otto, Ottomanelli & Sons, Palo Santo, Pulino's, Purple Yam, Roberta's, Salumeria Rosi, Spotted Pig, Tia Pol, Union Square Café, Untitled, Vinegar Hill House. 
Bay Area: Americano Restaurant, Bi Rite Market, Celadon, Fatted Calf Napa, Fatted Calf San Francisco, Oliveto, Plate Shop, Universal Cafe. 
Other: Hominy Grill, VA; B & B, Carne Vino, Otto, NV; Lidia's Kansas City, MO; Quiessence, AZ