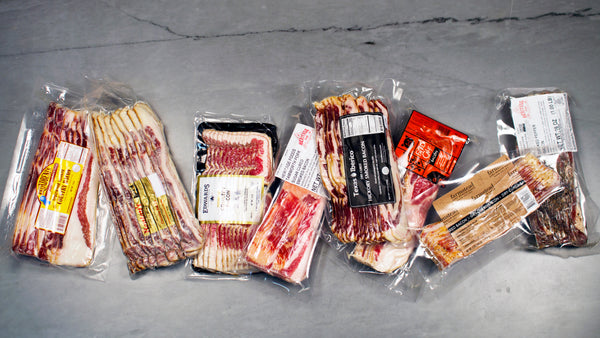 Three New Bacons!
Heritage Foods exclusively sources 100% healthy heritage breeds raised humanely. Heritage breeds are extremely well marbled and make the most delicious bacon!
Broadbent Applewood Smoked Heritage Bacon $65
Legendary curemaster now makes a lighter, sweeter bacon, smoked with applewood, using our heritage Berkshire bellies.
Tamworth Signature Heritage Bacon $65
"The bacon pig" — the Tamworth breed is renowned for its lean, flavorful bellies — cured in our signature style.
Heritage Bacon Favorites!
Bestseller
-
Our 250 Year Heritage Bacon Box $65
Three of America's Oldest Curemasters curing heritage breeds:
Benton (1947, TN) Broadbent (1909, KY) & Edwards (1926, VA) — Three 12-16 oz packs
Heritage Bacon Lover's Sampler $172
America's best masters curing heritage breed pork - Eight 12-16 oz packs, now including NEW Iberico, Broadbent Applewood Smoked, and Tamworth Signature Bacons!