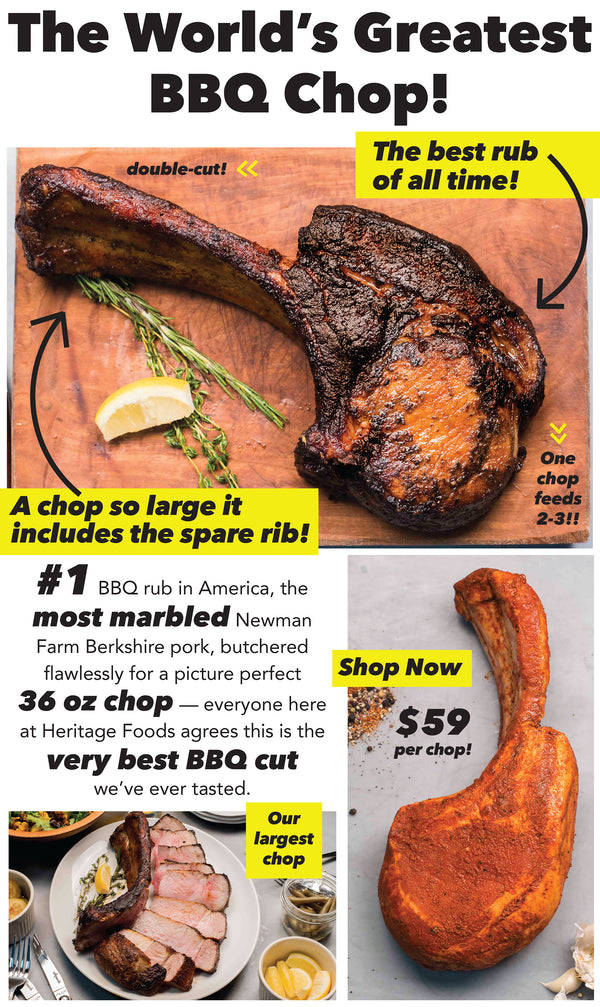 The World's Greatest BBQ Chop!
Everyone here at Heritage Foods agrees this is the very best BBQ cut we've ever tasted — the greatest BBQ rub in America, the most marbled Newman Farm Berkshire pork chop, butchered flawlessly for a picture perfect 36 oz chop. This chop is smoky, aromatic, well-balanced, smooth, and mellow.
Tempesta has mastered the sweet twang of classic American BBQ and refined it to elegantly coat every inch of this chop. The sweet paprika combines with a hint of chili and maple to elevate every bite. The thickness of the cut allows you to gain a perfectly caramelized crust without overpowering the fantastic Heritage pork flavor. The Berkshire pork chop delivers the ultimate in juiciness and tenderness, guaranteed to create a "wow" moment.
To prepare, simply sear on high heat for 3-4 minutes on each side to achieve a perfect caramelized crust. Transfer to a 400 degree oven for 20 minutes. Rest and carve!
The maker of our bold porchetta, Antonio Fiasche of Tempesta Artisan Salumi, is a fifth generation curemaster based in Chicago, who has infused a new energy into his family's tradition of cooking and curing in the Calabrian style. Antonio and his team are creating a bold and imaginative line of diverse products, forging new flavor traditions without boundaries, including the world's best BBQ rub. Antonio, a Good Food Awards winner, only uses the highest quality ingredients. We are proud to work with him, crafting our 100 percent pure heritage breeds into new, delicious experiences.