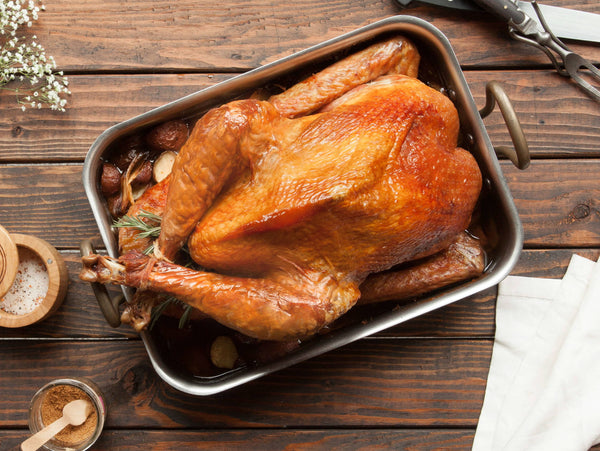 The Heritage Turkey – Two Ways
Thanksgiving is the traditional time to enjoy turkey. But everyone wants the Thanksgiving meal to be cooked in the traditional way – so you get a roasted turkey with stuffing. Delicious, but there are a million other ways to prepare turkey. Really, anything you do with chicken, you can substitute turkey. The flavors will just be more robust and flavorful.
The best way to experiment with cooking turkey is to buy the whole bird. It is not only more economical, but it also gives you the ability to play around with flavors and enjoy the meat throughout several dishes – or meals.
Here, we have two tasty and very different turkey preparations using the whole bird. One of our own HFUSA staff created both recipes, so we can attest to the cheers that erupted at the table when they were presented!  One is a sweet and sour turkey dish over cold noodles (using the thighs, legs and wings) while the other is a spicy coconut turkey dish served over rice or with lettuce wraps (using the breasts).
Be sure to keep any extra turkey trimmings, the back and all the bones to make a lovely poultry stock. Homemade stock is my favorite thing to keep in the freezer. I use homemade stock for risottos or the base for numerous sauce and soups. You can also substitute stock for water when cooking rice, couscous or other grains for a richer flavor.
Enjoy our whole Heritage Turkey today and try these two very different, very delicious preparations.
Sweet & Sour Turkey
Ingredients:
Marinade
½ cup sugar
½ cup soy sauce
¼ cup rice vinegar
3 cloves of garlic (roughly chopped)
1.5 tablespoons fish sauce
1 inch chuck of garlic (chopped into 3 pieces)
2-8 red chilies (depending on amount of heat you want!)
zest of 1 lime (peeled in strips, not grated)
Dressing
½ cup sugar
½ cup soy sauce
¼ cup rice vinegar
3 cloves of garlic (diced)
1.5 tablespoons fish sauce
1 inch chuck of garlic (diced)
2-8 red chilies (depending on type and amount of heat you want!)
zest and juice of 1 lime (grated and juiced)
fresh lemon juice to taste
handful of fresh mint
Thighs, legs, and wings of the Heritage Turkey
1 head of Napa Cabbage
Rice noodles
 Preparation:
Preheat the oven to 350
Separate the thighs, legs and wings from the remainder of the Turkey (save breasts for other dish and remaining pieces for stock)
Season the pieces with salt and pepper
Sear turkey in cast iron pan, skin side down, until you get a nice browned color across the skin side
While the turkey is searing, prepare your marinade
In a bowl combine the marinade ingredients, taste and adjust as needed
Flip turkey pieces over so flesh side is against the pan
Add marinade mixture plus 1 cup water to the pan
Cover with tin foil and braise in the oven for 2 hours, until the meat falls off the bone
Check turkey every half hour, scoop marinade liquid over turkey pieces to maintain moistness
As the turkey cooks, the marinade should reduce to form your sauce but you may need to add water as you go so turkey is not cooking dry
While the turkey cooks, prepare your rice noodles according to package instructions and shred the Napa cabbage.
Also, make the dressing for your noodles. You should notice the dressing and marinade ingredients are very similar so the flavors will be complimentary.
Once done, take pan out of oven and allow turkey to rest for 10-15 minutes
Taste the pan sauce and adjust as needed. Use to glaze the turkey.
Dress cabbage and noodles with dressing mixture then garnish with the chiffonade of fresh mint
Coconut Turkey
Ingredients:
Turkey breasts
2 cans coconut milk
zest of 1 lime (peeled in strips, not grated)
1 bay leaf
1 inch ginger (sliced thin)
3 onions
3 tablespoons curry powder
1-2 cloves of garlic
1 tablespoon sugar
2-3 red chilies (depending on type and amount of heat you want!)
Optional: 1/3 cup coconut milk powder
Diced scallions and cilantro for garnish
Preparation:
Preheat the oven to 350
Separate breasts at the bone and put them on a rack in a roasting pan
Season with salt and pepper
Pour can of coconut milk over the turkey
Add the peel of 1 lime, 1 bay leaf, the sliced ginger, 1 onion quartered
Cover in tin foil and cook in oven until tender and done, about 2 hours
While the turkey cooks, pull out a separate pan to sauté 2 whole diced onions
When clear and fragrant, remove onion from pan and keep in small bowl
In same pan, toast 3 table spoons of curry until fragrant
Add onions back to pan and diced ginger, 1-2 cloves diced garlic, chilies, 1 can of coconut milk and tablespoon sugar
Warm the sauce in pan to thicken
When turkey is done, rest for 20 minutes
Strain the cooking liquid from the turkey and add to sauce pan
If you want to thicken the sauce more, you can add another 1/3 cup coconut milk powder, but it is not essential
Pull turkey off the bone and slice on a bias. Add meat to the coconut mixture
Put in a serving dish and garnish with diced cilantro and scallions
Serve over rice along with lettuce wraps if desired