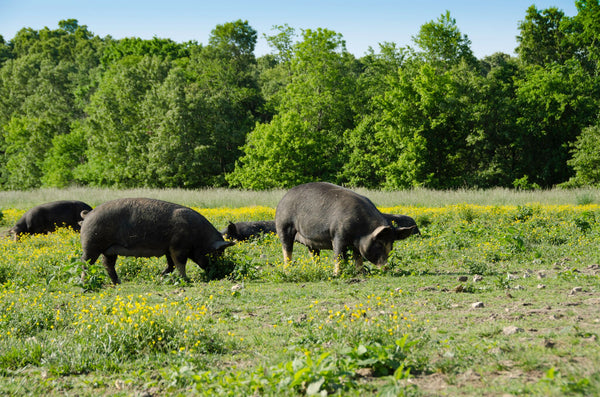 Sustainability on Newman Farm: Raising Heritage Berkshires
Sustainability… 
By: David Newman
Sustainability is a word that gets used a lot these days and I think it has a wide
variety of meaning. To our family sustainability is broken into two pillars and helps
establish some of the most important fundamentals of our family farming business.

Pillar 1: farm environment – We have a limited amount of natural resources
available and taking care of those resources is critically important to us. It is our
responsibility to properly manage the land that we have been fortunate enough to
obtain and use for farming. On our operation we have hogs, cattle, and sheep as well as a lot of pasture that we use for grasses such as wheat, rye, and fescue. All of our animals have 100% access to the outdoors, which we believe is the most humane, so managing soil health and pasture conditions is important.
There really is a sort of 'circle of life' to the ecology of farming. For one example- we finish (aka fatten) all of our hogs in large deep-bedded buildings that have access to the outdoors. These buildings are bedded with wheat straw that we raise here on the farm. As the pigs break down the wheat straw in the hoop structures it combines with manure to create a product that is really high in nutrients and organic matter. We collect this material after each group is sent to slaughter and then spread it back on our pasture ground in the fall to improve soil health. We also re-plant our winter wheat in the fall so this helps get the plant a great start. The nitrogen in the material is excellent for plant growth and the organic matter is critical to helping the soil hold rainwater and prevent drought. And… we can pasture our cows on the wheat all winter long as part of our grass-fed rotation plan. In our other pastures we use a wide variety of grasses and legumes for our hogs, cattle, and sheep. Last fall we planted kale, crimson clover, black oats, turnips, and rapeseed.


Pillar 2: farming as a business - I often say in our family meetings that there is
'nothing more sustainable than staying in business'. Simply put, farming is not for
the risk averse. The work is hard, the hours are long, and the financial cost is high. But, farming is in our blood. We are passionate about raising livestock and providing our customers with safe, high quality products for their families to enjoy! The connection we have with Heritage Foods USA is a massive part of that sustainability for our family. Without our unique connection with the Heritage team our long-term sustainability would be in question. I know that because of our connection my kids can have the opportunity to farm should they have the desire.