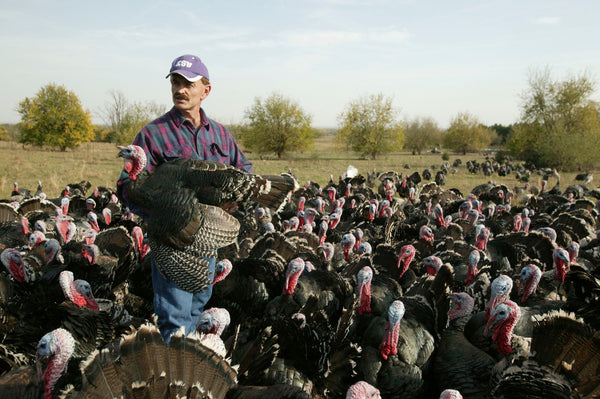 Summertime and We've Got Turkeys On Our Mind
It's only July but we've already got turkeys on our mind.
Pre-orders for Thanksgiving always start early – but this year is a special one for us and the Worlds Greatest Turkey Farmer, Frank Reese: This year marks the 100th anniversary of Frank's turkey flock arriving to Kansas, a genuine milestone for American farming.
Heritage customers know that we got our start selling Frank's turkeys and our relationship with him truly is the cornerstone of our business. He can also count among his fans Alice Waters, who says "These birds are without a doubt the tastiest birds you can possibly serve," and Mario Batali who proudly claims "I've served these birds for my Thanksgiving every year for the past 12 years and always will."
Frank has become an icon of American farming and has been featured in publications ranging from the New York Times and the Wall Street Journal to National Geographic and Playboy. His story is the Rosetta Stone of the sustainable agricultural movement. He is a hero in the renaissance of American farming.
Frank's story is truly epic, and goes all the way back to the 19th century poultry shows, back when such things were hosted at Madison Square Garden, the world's most famous arena, now better known for rock concerts and sporting events. It was a different world then, one run by sustainable agriculture because that's all there was – this was long before industrial farming meant cruelty and chemicals.