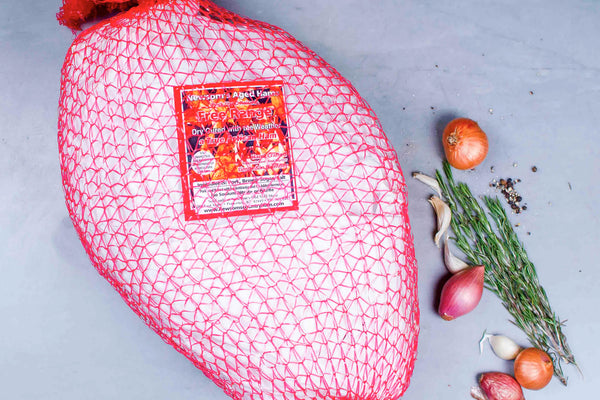 Storing Whole Prosciutto and Country Hams
Are you thinking of investing in a whole country ham or prosciutto? We think its a great idea and we have some tips from the best curemasters in America on how to store it in your home.
For the real meat-lover, there is nothing like a whole leg! If you have a meat slicer, this is an obvious choice, but it can also be easily sliced with a sharp knife! Each ham comes with a cloth netting for easy storage in the refrigerator for up to a year.
Col. Newsom's Heritage Free-Range Country Ham from Newsom's Country Ham est. 1917
This is a dry-cured ham similar to Prosciutto di Parma, San Daniele or Serrano but lightly smoked. More than 100 years of tradition are behind this long-aged ham which is produced in Princeton, Kentucky, by Nancy Newsom.

Newsom's traditional country ham cure is applied to the finest heritage breed pork. This is a bone-in free range country ham, aged 13-20 months. The clean pork flavor couples with Newsom's age-old family curing process to create a premium aged, complex diversity like none other — layers of flavor pleasing to the palate.
As Nancy Newsom explains "It is our pleasure to offer you 'our best' from the smokehouse — the 'Highland House,' our age-old family relic — cured only with the prideful notion that we have done our best for you and nature finished the rest."

Serve as you would any Spanish or Italian ham. Slice thin – slicing thinly is the key to enjoying and appreciating long-aged cured ham. A little bit goes a long way. 
TIPS FOR KEEPING OR STORING UNCOOKED WHOLE KENTUCKY COUNTRY HAMS

-To keep for indefinite period or for further aging, hang in a dry place and protect against insects, usually by wrapping in paper and cloth bags. Remember Ham will drip some fat in a warm place, but will not age further if stored where it is cold or in refrigerator.

-Since Col. Newsom's Kentucky Country Ham is cured and aged under federal inspection, your favorite supermarket or butcher may slice it for you. Take the cooking brochure with you to the market as the small, round seal on its front indicates a federal inspection number and without proof of inspection, slicing by a commercial store is forbidden under laws of storekeeping inspection.

-Remember it is normal for a Kentucky County Ham to mold as a whole, uncooked aged ham product. The mold may be removed with vinegar, vinegar and water, or water and bristle brush.

-Kentucky country hams, uncut and uncooked, may be kept whole without refrigeration for three years maximum if kept dry and properly protected from insects and rodents. Do not place in airtight containers such as plastic bags or bags with moisture barrier when whole and uncooked.

STORAGE TIPS FOR NEWSOM'S PROSCIUTTO PIECE CARVED FROM WHOLE PROSCIUTTO HAM

-Store in refrigerator wrapped tightly in plastic wrap (Saran wrap type). Never store in loose plastic bags as gases build changing the flavor. Proscuitto may be kept for several weeks in this manner. After that, wrap tightly in the plastic wrap, then in foil also to prevent freezer burn, for freezer storage.

-Whole, uncut prosciutto hams, bone-in, uncooked, skin on, may be stored in the same way as the cured Aged Kentucky Country Ham. See storage tips for whole hams above.
Edwards Heritage Surryano from Edwards Virginia Smokehouse est. 1926
Sam Edwards painstakingly salts, smokes, and ages Berkshire hams for 400-700 days. The ham has a rich full flavor, and an exquisite pliable texture, exactly like its European counterparts. It is sweet, nutty and delicious, the result of amazing skill in the curehouse as well as a great primary ingredient: highly marbled heritage breed pigs, raised on pasture with no antibiotics.
Serve as you would any Spanish or Italian ham. Slice thin – slicing thinly is the key to enjoying and appreciating long-aged cured ham. A little bit goes a long way.
Surry, Virginia has been home to the Edwards family since before 1926 when Wallace Edwards Sr. first started selling ham sandwiches on the ferry boat that carried folk to Williamsburg. Those $1 sandwiches would launch a multigenerational curehouse that is among the most respected food businesses in America. Producers of exquisite cured ham, bacon and sausage, Edwards Virginia Smokehouse is now run by Sam Edwards III and his son, Sam Edwards IV. 
In 2005 Sam III was searching for a well-raised ham source. He missed the flavor of the cured hams his grandfather produced and wanted to find hams that could stand up to 500 days of cure — regular hams would turn to dust on the inside after just a few months. Sam's goal was to produce a traditionally smoked American ham that recalled the flavors of the long-aged hams produced in Europe like the Serrano of Spain. After years of testing with the heritage breed hams raised by the network of farms working with Heritage Foods, Sam had found the flavor profile (twang) he was looking for. He named his new creation Surryano, after his home.
Edward's Boneless Heritage Surryano:
Storage: Refrigerate upon receipt.
Preparation: No cooking required. Ready to slice paper-thin and serve as a perfect complement to melon slices, olives, Spanish-style tapas...or on bread with olive oil and cheeses such as provolone & mozzarella. For optimal flavor, serve at room temperature.

Shelf Life: Unopened shelf stable for up to 2 years. Once opened, re-wrap and refrigerate to prevent molding. Best consumed within 12 weeks.