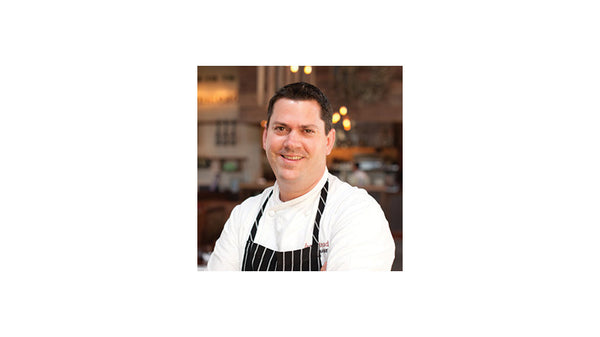 Stephen Barber – Director of Culinary Operations and Executive Chef of Farmstead at Long Meadow Ranch
California is the Promised Land where dreams really do come true — Hollywood, Disneyland, and Farmstead at the Long Meadow Ranch in Napa Valley.
"Farmstead is the culmination of many things that came together," says Farmstead's executive chef Stephen Barber, "this is where the rubber hits the road. It's a lot to explain, it's a complex operation. We raise our own beef, we grow our own vegetables. We make wine. We have the apple orchard in Napa, and an olive farm. We have 500 chickens, fruit orchards… there are so many different elements. And our restaurant, Farmstead, is where it all comes together. For lack of a better term, it is pure "farm to table," — it's been overused, but best describes what we are doing. This is the best case scenario — total control of our food supply from start to finish. The vegetables are from our farm, it is our wine you are drinking, our olive oil finishing your plate.
"We have Scotch Highlands cows — Ted Hall and the Hall family (who took over Long Meadow in the 1980s, after a storied past that drifted through the Civil War and Prohibition) — fell in love with this breed. They are gorgeous animals, very long hair, very lean, tasty, rich flavorful beef that does well in the hills here. We have some angus, too, and we use a rotating paddock system that we graze our animals on.
"But we can't raise every bit of protein at the restaurant, so the next thing is to find responsible people we can work with. Heritage is as much a part of our story as raising our own beef. We use all the Heritage rare breeds, Red Wattle, Berkshire, Duroc. We actually took a shot at raising pork — Patrick helped us with some Red Wattle pigs, but gosh, we couldn't get them to mate. I think he sent us some unsocialized pigs!"