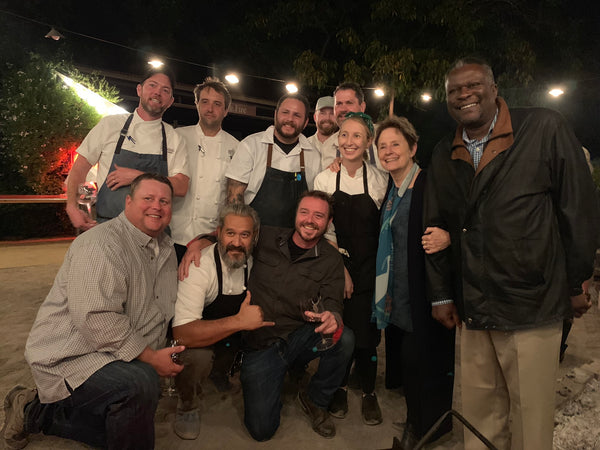 Spotlight on: Live Fire Event at Farmstead
Above Photo:
Top row: Kipp Ramsey, Adam Yoder, Gene Hall, Stephen Barber
Bottom row: Lou Fantasma, Howard Hanna, Taylor Boetticher, Alice Waters, Bala Kironde
This past weekend Team Heritage traveled to
Farmstead at Long Meadow Ranch
in St. Helena, CA, for a special Live Fire dinner event where we presented the first ever "Heritage Awards," recognizing outstanding achievements in the conservation and preservation of heritage breeds in both gastronomy and agriculture. It was a magical evening — complete with a heritage ham bar and 5-course family style dinner roasted, smoked, and seared by Chef Howard Hanna of
The Rieger
, Master Butcher Lou Fantasma of
Paradise Locker Meats
, and Executive Chef Stephen Barber of Farmstead and his culinary team. Also in attendance was our good friend and gastronomic legend, Alice Waters and our hosts Ted and Laddie Hall. Scroll to see more photos from the event!
Tables are set for Live Fire Event!
Farmstead at Long Meadow Ranch
Chef Kipp Ramsey
Patrick Martins, Alice Waters, and Chef Kipp Ramsey
Heritage Ham Bar featuring Casella's Prosciutto, Edwards Surryano & Farmstead Heritage Country Ham
Laddie and Ted Hall with Alice Waters
Chef Stephen Barber welcomes guests to the special Heritage Live Fire event
Newman Berkshire Porchetta
Chefs over the Live Fire