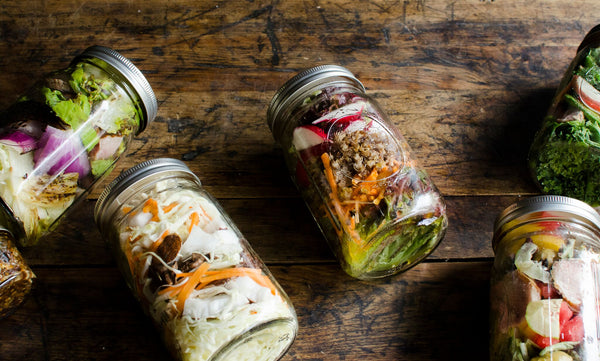 Spice up your Lunch with our Heritage Pork Grab and Go Salad Recipe!
Meal prep doesn't have to be boring — keep your lunches full of flavor with our Heritage Pork Grab and Go Salad Recipe!
With an array of seeds in the dressing, our heritage ground pork and colorful vegetables we have created an easy meal that is filling and flavorful. This paleo friendly recipe is a great way to keep your lunches (or dinners) exciting and healthy. 
Follow our directions below - but feel free to be adventurous and add your own vegetables. 
Dressing:
1 cup raw almonds
½ cup pepitas
½ cup sunflower seeds
12 oz. coconut oil or avocado oil
1 Tbsp lemon juice
On a sheet tray toast the nuts and seeds in a 325°F oven. You can toast them all together, but make sure to pay close attention and shake the tray often so all sides are evenly toasted. Once nutty and brown, pull the tray out, let cool and crush the nuts/seeds (ideally with a mortar and pestle) until most are broken or cracked. Combine the crushed seeds/nuts with coconut oil, mix in lemon juice and incorporate well. Your finished dressing can be stored at room temperature.
Grab and Go Salad Ingredients:
Romaine
Radishes
Carrots
Chili powder [optional]
Cumin [optional]
Curry [optional] 
Wash and quarter the radishes, rip romaine or another leafy lettuce into small pieces, peel and julienne the carrots. Season the ground pork with your favorite spice and brown in a hot skillet. Drain the pork on a paper towel to absorb excess fat and make sure to let the meat cool to avoid wilting your lettuce. To plate, arrange the vegetables in a bowl (or a glass jar with lid or Tupperware) for a portable lunch and add the ground pork on top. Note: we recommend warming the dressing slightly, so it can be easily poured over the salad.