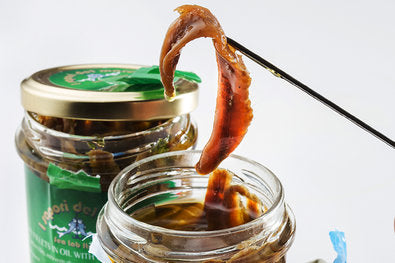 Sapori d'amare Italian Anchovies
The anchovy can be a polarizing subject, but for those of us who love them it is with unparalleled enthusiasm and fervor! No other single ingredient can do more to elevate a dish. As those lucky eaters who have tasted great anchovies know, these tiny little fish are the key to a whole world of flavor. 
And so, it is with great excitement we announce the return of our hand-packed, imported Italian anchovies. Written up by Florence Fabricant in the Dining section of The New York Times for their rich meaty fillets, these anchovies are truly "For connoisseurs of very small fish".
Caught in the Mediterranean, the anchovies are brought back to Bra, Italy where they are packed in salt and allowed to cure for two full weeks. After being cured the anchovies are rinsed, filleted, and hand-packed in extra virgin olive oil.
Sapori d'amare signature anchovy as well as 2 seasoned varieties, chive and garlic with parsley, are now available in limited quantity.