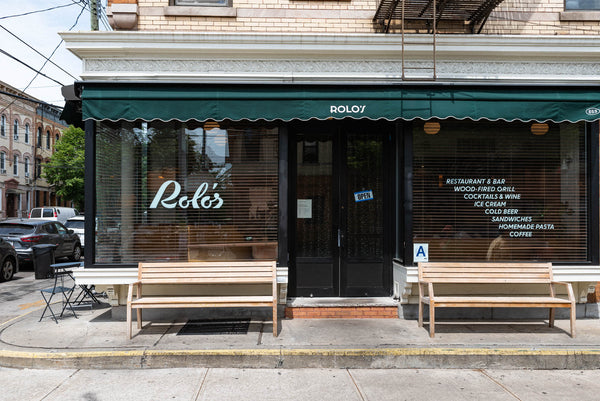 Rolo's on a Roll
Rolo's is the very definition of a great neighborhood restaurant.

Rolo's is located on a quiet block in Ridgewood, a neighborhood that sits on the border of Brooklyn and Queens. The restaurant is surrounded by large bay windows that are perfectly integrated into the space and this beautiful building has been landmarked by the City of New York.
At Rolo's you can order an array of delicious focaccia varieties and sandwiches for lunch from the sprawling counter. We love the muffuletta in particular which features our very own Boston butts, seasoned and cooked in house to make their signature mortadella. During the day you can sit anywhere in the restaurant when you get your food!
At dinner you sit for traditional table service and can dine on an array of pastas, salads, and vegetables. Their speciality is sustainably raised meats, many aged in house, that are cooked in their massive grill/smoker, a hulking machine billowing out smoke and fire, that was originally designed by chef Tom Colicchio. We love the heritage pork chops of course but their in house dry aged steaks are spectacular too.
We have known the team behind Rolo's for over 10 years. We were lucky to go on a recent tour of Rolo's with Howard Kalachnikoff who we first met during his tenure as a chef at Gramercy Tavern. We were so proud of how far Howard and his team have come as we toured his state of the art facility that he designed with his partners including chef Rafiq Salim.
Every part of Rolo's is beautiful and attention has been given to every detail. The dishwashing station was put on the ground floor next to the open kitchen, giving that station more dignity next to their colleagues on the line. The workspaces downstairs are spacious, well lit and designed in a way to make it easy to work in. Even the shelves where dry goods are stored are designed to look like a fancy grocery store, making picking from them easier and more civilized.

The aging chambers are a site to see, with steaks aging 5 weeks, the ideal time for texture and flavor according to the head butcher and sous chef Joe Paish. We were especially happy to witness the making of their delicious mortadella, step by step, including the separation of our famous Boston butts into lean and fatty sections, then ground, then spiced, then stuffed into a large casing before cooking. Rolo's is a place where the kitchens are as lovely as the actual restaurant!

As more and more chefs come into the world — more than ever in history — we wish upon every neighborhood to witness the opening of places like this.

Long may Rolo's be on a roll!