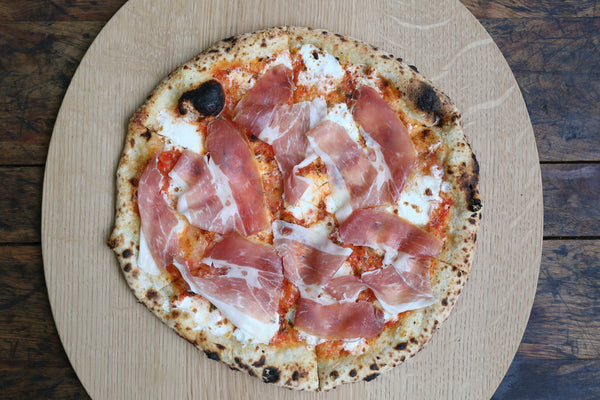 Roberta's Pizza Available at Heritage Foods
In 2008, a pizza oven built in the Piemonte region of Italy and destined for a soon-to-open pizza place in Brooklyn was said by the shipper to be lost at sea. When it finally showed up, the owners of the restaurant had to tear down the wall to get the oven inside before they could fire it up. Little did anyone know at the time but that oven would launch a modern pizza revolution in America and put Bushwick on the international pizza map.
We are proud to feature Roberta's famous pizzas on our website. All pizzas in the world are delicious, but some stand out, and Roberta's is definitely one of those. Order the pizza alone or with our 100% Heritage breed ground pork, Casella's prosciutto, or Tempesta Artisans mortadella. For other ideas on how to decorate your pizza pie visit the Heritage Foods Larder! Besides producing great food, Roberta's has rewritten the playbook on conviviality in the restaurant industry with their hand-built infrastructure and lovely garden in the back with outdoor seating. Roberta's is also the site of the Heritage Radio Network which has grown into one of the most important food archives ever compiled. Look to our website for new pizza styles coming soon!