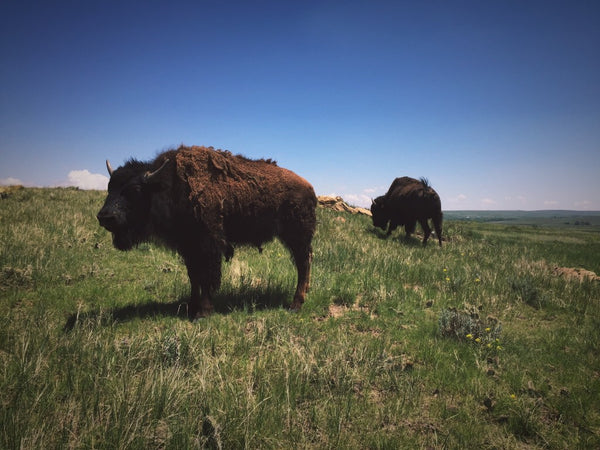 Return of the Bison
The species of grass that are out there, the wildlife, the birds, all of those things – even the contour of the land reflects the hoofprint of the bison. – Dave Carter, President National Bison Association
Dave Carter is the Executive Director of the National Bison Association, a resource for ranchers working to preserve, promote, and market bison as a sustainable industry.
Bison are a keystone species of the prairie ecosystem.
One might say bison are the "keepers of the plains". The bison's diet consists of native grasses, maintained by the slight disturbance of the bison's cup-shaped hoof. In their hay-day two subspecies of bison, the plains bison and the wood bison, grazed from Alaska south into Mexico and out toward the eastern seaboard of the United States. Bison were so incomprehensibly plentiful, millions upon millions of hooves of migrating herds of bison laid the track for what is now highway U.S. 150 – year after year they wore one path, which crossed the Ohio River, running northwest to the Wabash River and into present day Illinois.
Dave Carter: I fly a small plane and it's interesting when you fly over the prairies and you see these prairie potholes – these small lakes or ponds that are out across the prairies. A lot of those prairie potholes were formed throughout hundreds of thousands of years of buffalo wallowing in the dirt and kind of excavating it out and creating a catchment. When you create the prairie pothole, well then you have got an ecosystem that brings in the birds and the predators. So we feel that this is the animal that belongs in this part of the world. One of the things that we try and promote is that with bison the less that we tinker with the animal, the better.
Four hundred years ago estimates place historic buffalo populations around 50 million head. By one hundred and twenty years ago the American bison had been hunted down and driven to less than a thousand head.
DC: A hundred and twenty years ago there were less than seven hundred animals left alive. And there were five ranchers that essentially gathered up the remnants of the herd and saved them from extinction. People talk about the Bronx Zoo and the animals that were in Yellowstone, but it was really Charles Goodnight, and Samuel Walking, James Phillips, and the Pablo-Allard Group who gathered up the remnants and saved them.
Even though bison are being raised for meat production, the species remains wild in the sense that they don't require any assistance mating, birthing, and can withstand cold winters without shelter. Today total bison numbers are estimated around half a million. Luckily, ranchers and the National Bison Association are committed to increasing numbers and keeping the species free of antibiotics, growth hormones, and heavy genetic selection.