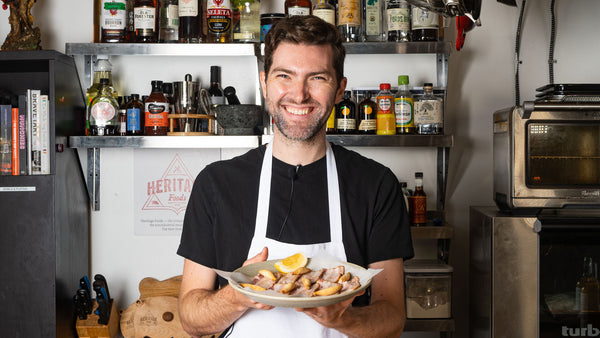 Red Wattle Pork Belly Chicharrones de Cádiz with Chef Jonah Miller of Huertas
We were so happy to have chef Jonah Miller of Huertas visit us in our studios. He filmed a short video on Spanish olive oil and he also prepared a pork belly dish which we are happy to show here so that you can prepare it at home.
When we dine out, we love eating small plates and having choices on what to eat! Huertas is a perfect place to eat in this way. In fact, we love Huertas so much we have included a recent menu below, hoping to entice you to go there! Worst case, you can try this pork belly recipe at home!
Huertas serves up Spanish fare, evoking the lively eating and drinking culture of Spain mixed with the creativity of NYC's dining scene. They offer a rotating assortment of Pintxos (small bites) and larger, seasonally revolving Raciones, accompanied by classic Spanish beverages, such as Refrescos (wine or beer coolers), house made vermouth, and a long list of Spanish wine, sherry & cider. They aim to honor and highlight the more authentic of Spanish dishes/beverages while adding our own NYC twists here and there!
Huertas has approximately 80 seats, indoors and out, with an energetic, inviting bar area and a back dining room which doubles as a private dining space. An open kitchen adds energy to the space and allows guests a glimpse at the theater that is professional cooking.
A sample menu from a recent night is included here!
PINTXOS/Basque Bites
'Gilda' | Boquerones, Olives, Pickled Pepper
Croqueta | ...of the day
Snap Pea Toast | Ricotta, Lemon Zest
Foie Gras | Rhubarb, Toast
Aceitunas | House Olives, Pickles
Bikini | Pressed Jamón & Mahón Sandwich
Basque Dog | Chistorra Sausage, Piquillo Mostarda, Aioli
CONSERVAS/Tinned Fish with Accompaniments
Boquerones | Nassari
Anchoas | Olasagasti
Cured Sardines | Kiele
Mackerel in Oil | Cabo de Peñas
Grilled Mussels | Güeyu Mar
Cuttlefish in Ink | Alálunga
Barnacles in Brine | Conservas de Cambados
Gran Selección | Boquerones, Anchoas & 2 Special Tins
RACIONES/Shared Plates
Los Cameros Cheese | Tomato Conserva, Olives
Jamón Serrano | 16-Month Spanish Ham, Marcona Almonds
Jamón Iberico | 36-Month Iberico Ham
Ensalada | Snap Peas, Preserved Lemon, Idiazabal
Shishitos | Blistered Peppers, Lemon, Maldon Salt
Patatas Bravas | Fried Potatoes, Spice Mix, Aioli
Tortilla Española | Spanish Potato Omelet
Roasted Mushrooms | Smoked Garlic, Parsley (Egg Yolk +2)
Market Asparagus | Pine Nut Picada
Gambas al Ajillo | Shrimp, Corn, Cherry Tomatoes, Chili Crisp
Pulpo | Charred Octopus, Potatoes, Pimentón
Chicken Escabeche | Marinated Vegetables, Picked Pepper Sauce
Saffron Fried Rice | Shrimp, Bacon, Pea Leaves, Peas, Egg, Aioli