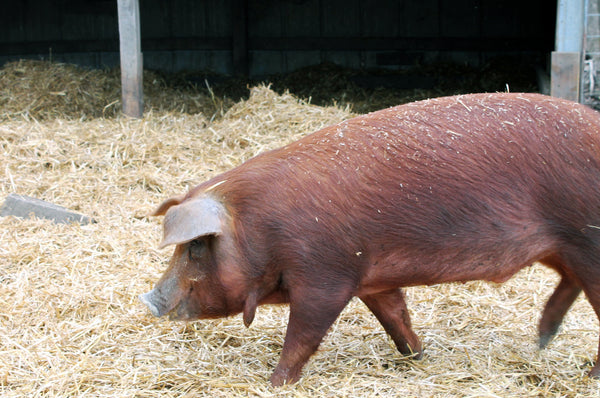 Red Wattle | A Rare Occasion
Red Wattle pork is sweet, buttery and earthy, with a subtle spice and a hint of cinnamon. Its expressive porky flavor is concentrated and bold. The Red Wattle is one of few breeds left in the world with wattles hanging from its jowl.
Our Red Wattle pigs are raised by Larry and Madonna Sorell, farmers we've worked with since the beginning in 2002, originally growing heritage turkeys and eventually becoming the undisputed kings of Red Wattle pigs in the USA. Because of a fierce dedication to the genetic purity of the breed and thanks to relationships with the Amish community that took years to develop, Larry and Madonna are a major reason why the Red Wattle, once critically endangered, has been upgraded on conservation lists by the Livestock Conservancy.
Though the history of the Red Wattle pig is unclear, many believe that the breed came to our shores from New Caledonia and populated the backyards of New Orleans' homes in the 18th and 19th centuries. The Red Wattle was once thought to be extinct but a wild herd was found in Texas in the 1970s. Today their numbers are still limited but we have seen population recovery due to the increased demand for their exceptional pork. In 2014 the North American Red Wattle Hog was upgraded from "Critically Endangered" to "Threatened" by the Livestock Breed Conservancy.