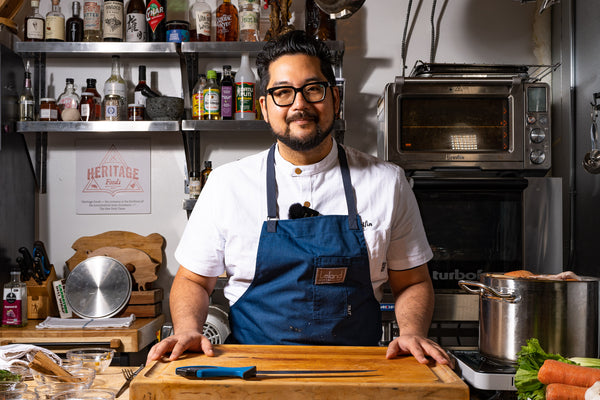 Pork Chops with Chef Delfin Jaranilla of Leland Eating & Drinking House
I was born on 10/1/1984 in Manila, Philippines to Rowena and Delfin III (Im the IV). I am the oldest of 3 brothers.
My family including my grandma on my dad's side (Lola Nene) moved to southern California in 1991. Half of the year my grandma (Lola Ine) on my mom's side would live with us.
Lola Ine was a major inspiration to my curiosity in cooking. She was a woman of few words but her food spoke volumes for her love for our family. When I was able to start driving, I was in charge of taking her to the grocery store. I was always fascinated with how much food she can buy with $100 and feed a family of 5 for a week and still have enough left over to always play some lottery tickets and scratch offs! I'd watch her pick produce, communicate (somehow) with the butchers because she didn't speak much english.
I've always felt that I was the type of person to excel in things I had a vested interest in but for some reason lacked the self motivation to commit to a direction. I did really well in school up until I left for college and was unleashed by dorming away from home. As the first child of immigrant parents, I was raised with very strict rules so I guess it was only a matter of time until I fully rebelled.
Long story short, I gave almost 0 effort into my first year of college and quickly found myself ineligible to return and moved back home. Filled with guilt and shame I moved back home and bounced around almost every single community college within a 20 mile radius — I could not stick with school and realized that it was not my path.
I made a snap call to get the ball rolling on making a move to New York, a city I was completely enamored with from my very first visit. My close friends and I used to take short trips out to New York just to explore and eat our way through restaurants, and I fell in love with the diversity, density, and accessibility of the big city.
So with $500 and a transfer with Starbucks as a supervisor I made the leap in February 2012 and I remember thinking to myself that this would be the hardest year of my life and if I managed to survive the city for a year, i'd call it a success.
My initial plan was to find a culinary school to enroll in while I worked, but I was quickly talked out of it by the first chef that hired me (Scott Tacinelli of Don Angie/Quality Italian). He said that he did not regret going to culinary school but that it was definitely not necessary and that I would set myself back quite a bit trying to pay loans off while making $12/hr as an entry level cook.
So I started as a salad/cold apps cook at Quality Meats (Michael Stillman/Chef Craig Koketsu). I completely committed my life to taking every day as an opportunity to learn as much as possible, push myself, and be better than the day before.
I was offered an opportunity to be a part of the opening team for Quality Italian in 2013. QI was a hit right from the start and I pushed to learn every station and make my way to Sous Chef as soon as possible. I was promoted to that position later that year, to Executive Sous Chef in 2015, and then Chef de Cuisine in 2016. I was then offered to open Quality Eats in NYC's upper east side in 2017 and then Quality Eats in NoMad 6 months later.
That year was the hardest year of my life and I found myself completely burnt out from the back to back openings and I decided to take a step back and do some self reflection and soul searching because I had fallen out of love. I took a chef de cuisine position at a much smaller bar/restaurant called Fedora (Gabe Stullman/Chef Jin Kang) in October 2018 and fell back in love with my craft. High volume fine dining was definitely exciting and a great learning experience, but I was able to slow down and focus on food and creating at Fedora which was so rewarding. I had the freedom to run daily specials (as many as I wanted!) and had equal input in changing the menu seasonally.
When the pandemic hit, I was laid off just like most of the workforce in our industry. I took that opportunity to rest and start up a cooking class on Zoom, where I would send participants a shopping list and a recipe at the beginning of the week. Then, we'd all sign on Sunday evenings and cook the recipe together. It was a lot of fun and a way to quell my busy chef mind while the city was shutdown.
I love cooking because I love to eat! I love the connection to community, family, and love that really great food brings with it. Being a chef is also very rewarding to me because of the relationships you develop in this industry. The diverse range of characters you meet and spend time with every day, their stories, and the fact that as a chef, you somehow lead an entire team to the singular goal of delivering an experience to eager guests makes it all worthwhile.