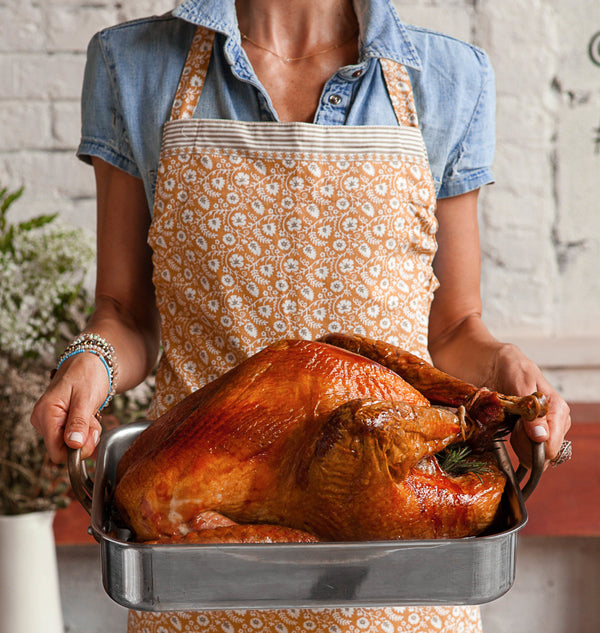 Our Top Five Cooking Tips for the Best Heritage Turkey
Some folks might be intimidated by cooking their first (or 15th!) Heritage Turkey. It can feel like a lot of pressure to get it right! You've already made the best choice by purchasing a heritage turkey, but we have some awesome tips to help make your Thanksgiving a total success! If you have any questions or need help, email us at info@HeritageFoodsUSA.com or give us a call at (718) 389-0985. We are here for you! Now, for our TOP 5 TIPS!
For the crispiest skin, you want it to be as dry as possible before cooking. Take the turkey out of its packaging, rinse in cold water, and pat dry with paper towels. Then place your bird in your refrigerator uncovered to allow excess moisture to dry. We suggest 24 hours if possible, but any amount of time will help! Another step to help crisp skin during the cooking process – be sure to check the internal temperature first so as not to overcook the bird, but turning up the heat to 375 for the last 15 minutes of cooking will help achieve crispy results!
Brine if you wish, but we suggest keeping your seasoning simple! Use butter or olive oil on the skin, and plenty of salt and pepper. We also suggest using fresh herbs such as rosemary, thyme, and sage in the cavity, on the outside of the bird, or even in small slits cut throughout the body. A bed of fresh herbs beneath the rack the bird sits on is a great way to impart flavors as well!
The minutes per pound for your bird varies depending on how big it is. Small birds (up to 14lbs) typically need 10 minutes per pound. Larger birds may need 13-15 minutes per pound. Most importantly, keep in mind that ovens differ and the best way to know when your bird is done is to check the internal temperature with a meat thermometer. More on that next!
Be sure to have a meat thermometer on hand! An old-fashioned, non-digital one works perfectly. The only way to tell for sure if your turkey is done is to check the internal temperature. Check it often, especially as the turkey gets closer to the final desired temperature. The meatiest part of the thigh is the best place to check, and you want it to reach 165 degrees before removing it from the oven. The temperature will continue to rise while it rests.
Let your turkey rest! This step is absolutely crucial to ensure a juicy bird. Allow 30 minutes of rest time after cooking and before carving.