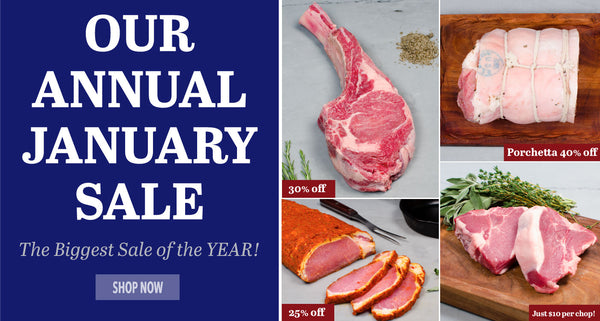 Our Annual January Sale
Our Annual January Sale is on! We only do this once a year to make room for many new products coming in! The sale runs for 30 days and once items sell out they are gone – so don't miss out. Shop the sale here.
Our sale selection ranges from pork chops to leg of goat and many different cuts in between — all humanely raised on pasture by independent family farms, 100% antibiotic free.  
Below is the recipe for Tandoori Lamb Balls from our friends at The Meatball Shop, NYC using Heritage ground lamb, of course! (Or try it with our Heritage ground pork or goat — both also on sale this month.)
2 TBSP Olive Oil
2 Pounds of Ground Lamb
1⁄2 Cup of Bread Crumbs
2 Large Eggs
1 Cup chopped Fresh Cilantro (Including Stems)
Juice from one Lemon
1⁄4 Cup Tandoori Spice Mix (Recipe Follows)
2 TSP Salt
Mix together the ginger, cumin, coriander, sweet paprika, turmeric and cayenne pepper in a bowl. This spice mix will keep in an air tight container for up to 6 months. 
Preheat the oven to 450°F. Drizzle the olive oil into a 9 x 13-inch baking dish and use your hand to evenly coat the entire surface. Set aside.

Combine the ground lamb, bread crumbs, eggs, cilantro, lemon juice, tandoori spice mix and salt in a large mixing bowl and mix by hand until thoroughly incorporated.
Roll the mixture into round golf ball-size meatballs, making sure to pack the meat firmly. Place the balls in the prepared baking dish being careful to line them up snugly and in even rows vertically and horizontally to form
a grid. The meatballs should be touching one another.
Roast for 20 minutes, or until the meatballs are firm and cooked through.

Allow the meatballs to cool for 5 minutes in the baking dish before serving.
Tandoori Spice Mix 
2 Teaspoons Ground Ginger
2 Teaspoons Ground Cumin
2 Teaspoons Ground Coriander
2 Teaspoons Sweet Paprika
2 Teaspoons Ground Turmeric
2 Teaspoons Cayenne Pepper
Combine all 6 ingredients and store in an airtight container.