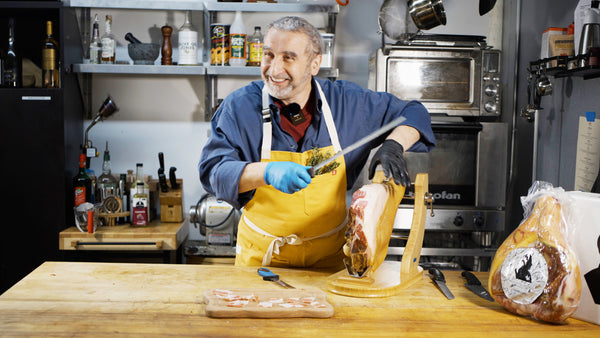 On the Road with Cesare Casella —  #ProsciuttiForTutti Tour Goes to LaLaLand!!!
Following our perfectly insane foray into San Francisco armed with Cesare Casella's new line of amazing prosciutti, we returned to the left coast to introduce these Italian-style cured hams to Los Angeles' best chefs and culinary luminati.
These are truly the very best heritage hams, prepared naturally in a traditional style – cured in only salt, and (unlike American-style hams) never smoked. Casella's hams are always cured on the bone for extra flavor.
So what do we do when a product is this good? We share it!
We visited our Los Angeles distributor Premier Meats where Patrick wowed the sales reps with Tales of Carnivorous Adventurous and rare-breed preservation ("you have to eat them to save them") and we hosted a rare breed tasting of porterhouse pork chops, country ribs, and of course Cesare's finest prosciutti and salami. Special shout outs to Harry, Udi, Omer, Martha and Stacey at Premier, truly an A-Team! Thanks guys!
We spent three days eating, visiting, tasting, and making friends.
Our first night kicked off with a special event at chi Spacca, Nancy Silverton's meat mecca of the Mozza group — a celebration of all things Heritage Foods. Cesare sliced his prosciutto and cooked an entire course of braised ribs, and superstar Chef Ryan Denicola blew our minds with his presentations of our Silver Fox rabbit and Tunis and Dorset Horn lamb.
We met with old friends and new friends — Neal Fraser at Redbird, Mary Sue Milliken at Border Grill; the amazing Akasha Richmond at AR Cucina; Jon and Vinny of Animal; Chef Steve Samson of Sotto and the forthcoming RossoBlu. We had breakfast at Sqirl with Chef Jessica and Javier; snacks with Chef Javier at Lucques and later cured meats with Alex at Gwen's gorgeous butcher shop. We can't forget the famous Papi Chulo (Roy Choi) and Chef Diego at Commissary at The Line Hotel and then somehow we made it to Gjusta for pizza before dinner in Santa Monica at Cassia. And along the way we snuck in drive-bys at Here's Looking at You, where Red Wattle bellies rule the roost, and the Tasting Kitchen, whose pork rillettes was one of the most memorable flavors of an astonishing, decadent trip.
Did you miss us in LA? Want to taste Cesare's prosciutto for yourself? We are going to be in Las Vegas in April!
Come eat with us on Saturday, April 1st when Carnevino hosts its first guest chef dinner with Cesare Casella. A one-night only twist on signature dishes featuring three Heritage breeds of pig. Tickets are available at https://cesarecasella.splashthat.com/.