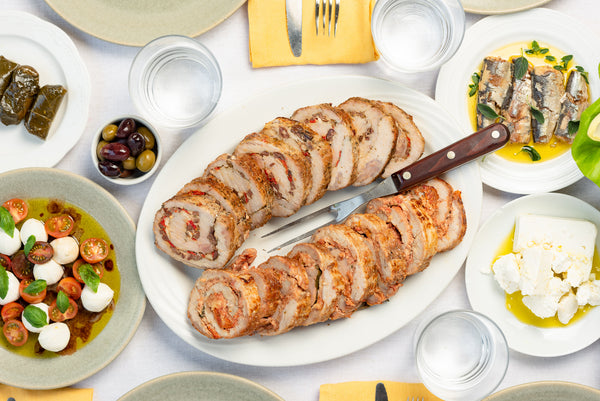 New Heritage Collection: Pork Rollatini
We are proud to launch a brand new Heritage Collection of Heritage Boneless Pork Loins, hand-rolled by our trusty butchers in Kansas City with seasonal fresh ingredients!
Our pork Rollatini are the perfect size to feed a family of four and are ready in 30-45 minutes – just sear and cook in the over to an internal temperature of 145 degrees F.
Our first two flavors are Greek and Italian. The Greek features feta cheese, Kalamata olives, and roasted red peppers, and the Italian has tomatoes, basil, mozzarella cheese, and bread crumbs. $59 for one 2-3lb roast and $99 for two.
Each month or two we will roll out new flavor combinations but they all have in common pasture raised heritage breed pork as the central ingredient.
From the very same farms that put the word heritage into the American lexicon, our pork loin pinwheels are the perfect comfortable and delectable meal.
Try all our different flavors in our Heritage Collection Subscription or buy them individually. New flavor ideas? Please share them with us!
From the air, Newman Farms, in south central Missouri, in the heart of the Ozarks, looks more like a pioneer settlement or a holiday camp than any sort of pig farm. Wooden huts are scattered across green fields like bungalows, where contented Berkshire pigs live their lives, happily on-pasture. It's an idyllic image, far from the modern machine that is industrial pig farming.
For years the Royal Family kept a large Berkshire herd at Windsor Castle — our Berkshire pigs are traceable back to these old English genetics. This would eventually become the most popular Heritage breed of pig in the United States because of its supreme marbling. Prized by the Japanese who imported it as "Kurobuta" pork, the Berkshire is recognized by 6 white spots at the tip of its feet, nose and tail.