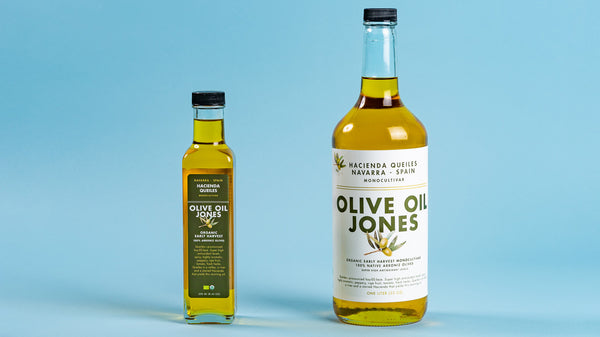 Extra Virgin Olive Oil Tasting with our New Variety Hacienda Queiles
We are proud to introduce our newest and rarest olive oil variety: Hacienda Queiles from Navarra, Spain and we were thrilled to have Steve Jenkins (Olive Oil Jones) and Chef Jonah Miller (Huertas) in our warehouse studio to taste it! 
Watch them taste, smell, and respond to Hacienda Queiles' oil made from 100% early harvest arroniz olives, a local variety from Navarra, Spain rarely seen as a monocultivar. 
This special olive oil from Hacienda Queiles is certified organic. The taste ripples with ripe fruit and a sweetness and a huge elegant boldness. And who better to taste this big and lovely oil with Steve than Jonah Miller, the chef and owner of Huertas, a New York City restaurant focused on Spanish small plates and pintxos. 
Hacienda Queiles has been making olive oil in Navarra, Spain, in the middle of the Queiles River Valley for 25 years. The Spanish Association of Olive Municipalities (AEMO) awarded Hacienda Queiles The Best Mill Of Spain.
More about Chef Jonah Miller: 
Growing up in New York, Jonah was drawn to food at a young age and began his career as a fourteen-year-old summer intern in the kitchen of the legendary restaurant, Chanterelle. Jonah attended NYU, majoring in Food Studies and Restaurant Management and continued to cook in places such as Gramercy Tavern and Savoy. While in college, he studied abroad in Madrid, living on the iconic Calle de las Huertas and eating up everything Spain had to offer. After three impactful years in the kitchen at Danny Meyer's Maialino, ready to strike out on his own, he traveled back to Spain to put the finishing touches on his vision for Huertas. Huertas opened in 2014 and received 2-stars from the New York Times. Jonah has been named to Forbes 30under30, was a James Beard Semi-Finalist and is the subject of the book Generation Chef. His first cookbook, The New Spanish,was released in June 2018.