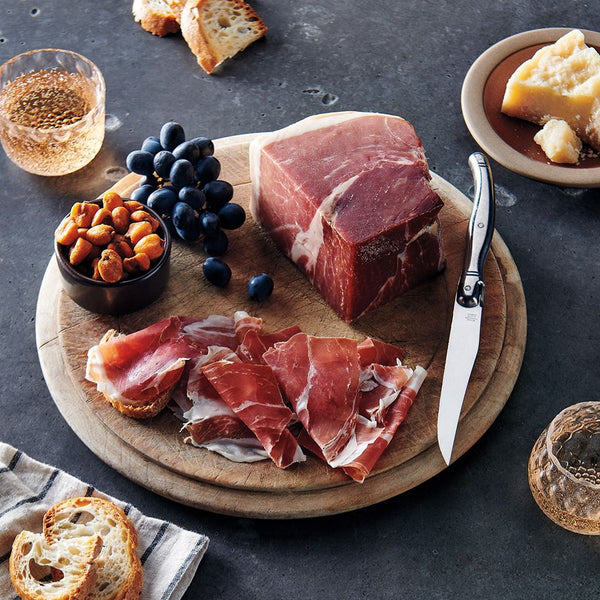 New Edwards Heritage Surryano Wedge
20 Reasons to Always Have an Edwards Wedge
1.  Enjoy the thrills of a whole ham experience, with a 12-16 oz piece!
2.  Smoking with real hickory wood and hand-salting by hand gives each wedge a deep mahogany color and rich old-world American flavor.
3.  Support a 4th generation Curemaster with 95 years of family experience — the Edwards family is a pioneer in the reintroduction of heritage breed pork to the American dinner table.
4.  Wedges maintain freshness and flavor in a way pre-sliced does not.
5.  Support farmers who raise livestock on open pastures!
6.  Ready to eat when it arrives (each wedge is already cleaned)!
7.  Wedge shavings and slices can be served on almost anything: sandwiches, pasta, melon, cheese, bread.
8.  Eat like a Master: "This is how the Curemasters eat long-aged ham" — Sam Edwards III
9.  Wedges look great on a charcuterie board!
10. Buy Local! Buy Domestic! Surryano is an American take on the Spanish Serrano.
11. Support the last vestiges of pre-industrial heritage breeds in the nation.
12. The high marbling of heritage breeds produces delicious charcuterie.
13. Aged for up to 18th months, these hams have acquired a deep, rich, smoky, flavor that can stand up to whiskey and dry aged-steak.
14. Support Southern traditions!
15. A wedge in the fridge assures that you are just seconds away from a delicious and satisfying snack.
16. Each wedge lasts 3 months once opened.
17. Learn how to carve, although a shaving is all you need.
18. Wedges are a perfect partner to Parmigiano Reggiano and your favorite aged cheeses.
19. An easy gift, a Surry wedge only needs to be refrigerated after opening.
20. Surryano wedges are delicious!
In 2005, Sam Edwards III was searching for a well-raised ham source as he missed the flavor of the cured hams his grandfather produced. Little did we know at the time, but when Sam called to place his first order, he was actually helping to launch Heritage Foods — for the first time, farmers who raised 100% heritage breed pigs on pasture could be guaranteed a premium for their hams. The 400-day aged Surryano has since won hundreds of awards, and many other Curemasters have followed in Sam's footsteps, essentially improving the taste and quality of American charcuterie while treating the animals who provided the main ingredient with honor and dignity. Sam's newest creation is the Surryano Wedge! We hope you will bring a piece into your home and taste how delicious it is for yourself.