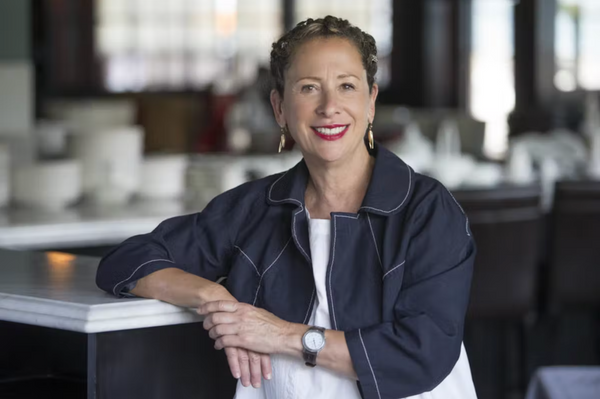 Nancy Silverton, Chef Series and Featured Cuts
Our new Chef Spotlight Series explores the minds of visionary chefs committed to preserving endangered breeds by featuring them on their menus. Our inaugural feature is Nancy Silverton, star of Chef's Table, founder of Campanile and La Brea Bakery and owner of the Mozza Restaurants in Los Angeles.
It's a trust thing.
When Nancy Silverton was getting ready to open up Osteria Mozza and Pizzeria Mozza in Los Angeles, her partners, Mario Batali and Joe Bastianich, gave her very little direction. "Joe had an idea for an amaro focus at the bar, and of course we had Italian wine. As far as the food, Mario trusted us, but he wanted us to look into working with Patrick and Heritage Foods, which was still very new.
"What sets us apart as an Italian restaurant — and what doesn't," says Nancy, in typically exuberant fashion, "is that we are so ingredient driven. Everything has to be local and seasonal, especially produce. Mario wasn't able to give me any advice about that because he was in New York, and I already had a relationship with my farmers in California. But meat is one of the hardest ingredients to source, and Heritage took the worry out of knowing where it came from — I love their dedication to slow farms and heritage breeds, and we know these animals are raised under the best conditions, which leads to the best quality — and that was the key to our relationship.
"From the beginning we were using all of our pork from Patrick. At the pizzeria we were using shoulder in the grind for the sausage and the meatballs. Now we're buying whole pigs at Chi Spacca, and if Patrick calls us and says, 'Hey I have an excess this week, can you use this or that' – we can buy cuts to use at our other restaurants. We all want zero waste, and I'm supporting all of my values. In October we buy Heritage goats — last year we featured it for the whole month at Chi Spacca. We do goat sausage, we braise it, we cure it and make salumi.
"Back in '89 when I opened Campanile it was the beginning of careful sourcing, and I would list our farmers on the menu. But after a while it began to look too commercial. When someone said 'farm to table' it could mean anything. So now I always just explain to our servers the back story, and they can tell the customers if anyone is interested. But I know they can taste the difference. I just found a producer of bufala milk mozzarella in Sonoma – it's the first bufala not from Italy that we've found of this kind of quality, so that's why I mention it. I'm very excited!"
Featured Cuts from This Week's Chef Series: