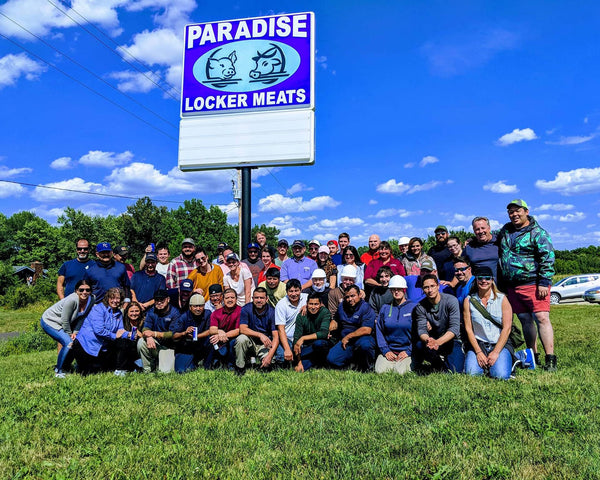 Meet the Folks at Paradise Locker Meats
In 2004, our founder Patrick Martins walked up a dirt road in Trimble, Missouri to meet the Fantasma family for the first time and discuss the possibility of working together. Mario, Teresa, Lou and Nick opened the doors of their facility to Heritage Foods and processed 5 Tamworth pigs raised on Metzger Farm, which were then sent to chefs in New York and San Francisco.
Every week since that initial meeting 12 years ago, Paradise Locker Meats and Heritage Foods USA have worked together to bring heritage breed pigs raised on pasture to chefs in restaurants and homes across America. Paradise has grown to process 200 Red Wattle and Berkshire pigs a week for Heritage Foods clients, as well as other livestock, and is now a major force in supplying good, clean and fair food to their local community. Paradise is credited with elevating the quality of the Kansas City restaurant scene by providing a tastier and more sustainable alternative for center of the plate options.
The processor is often overlooked when reflecting on the agricultural supply chain but they play a crucial role in connecting the farmer to the consumer. Every single piece of meat, every chop, steak and ham passes over their butcher block is expertly cut, portioned, packaged and shipped. Paradise Locker in particular also acts as liaison to farmers. They carry heavy and dangerous objects, they navigate the many challenges of maintaining the strict protocols of the U.S.D.A. and Certified Humane® and they operate an award-winning curehouse. Considering the work of the processor, it is remarkable how consistent and beautiful every cut is that comes out of their plant.
Paradise Locker was founded in 1946. The Fantasma family purchased it in 1995 but a smokehouse fire burned it down in 2002. The family was at a crossroads but decided to re-open. The relationship with Heritage began in 2004. And this year, Paradise Locker has undergone a major expansion, doubling the size of their facility. Paradise Locker is now a larger job creator for their staff and for family farmers who now have a quality processor for their livestock. They are also expanding the amount of good meat available to all Americans from coast-to-coast.
The Paradise Locker/ Heritage Foods USA collaboration has endured every week for 12 years and serves as a bellwether to the nation that the industrial meat complex has already reached its apex and is at risk of a sustained downward trend unless they improve their practices. We stand with all butchers, processors, curemasters and especially chefs who respect gastronomy, taste and all the players that go into making it possible.