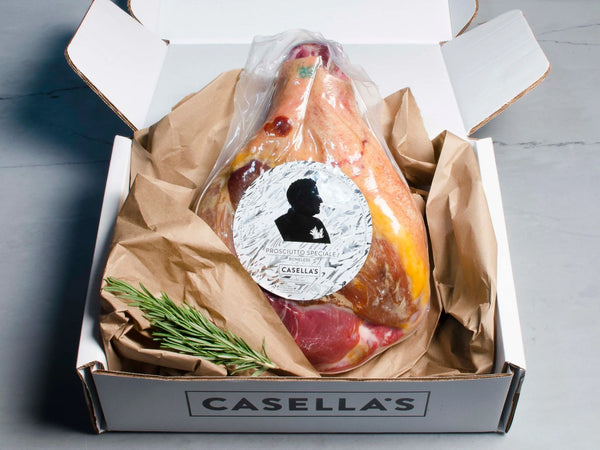 Meet our Prosciutto Style Hams
Edwards Prosciutto-Style Ham
This is a dry-cured ham that boasts the signature flavors of Surry, VA, where hams have been produced for 90 years by the Edwards family. Sam Edwards painstakingly salts, smokes and ages Berkshire hams for 400-600 days. As our hams pass through the Spring, Summer and Fall rooms of the Edwards facility, they acquire a depth of flavor that is second to none.
Broadbent Prosciutto-Style Ham
New-World and Old-World collide in this fresh example of Heritage cured ham. After over 100 years, Broadbent boasts a pasture-raised heritage product line and the results are a lighter, sweet and salty American prosciutto. Perfect with summer melon or on home made pizza!
Nduja
Fourth-generation 'nduja artisan Antonio Fiasche crafts his specialty in Chicago, where his family has run Ristorante Agostino for 32 years. Antonio was introduced to us at the 2016 Good Food Awards, honoring America's great artisans. His 'nduja is sweet up front, followed by a subtle but uninhibited heat. We guarantee you'll find this traditional Calabrian spread an unexpected and unforgettable, bold delicacy.