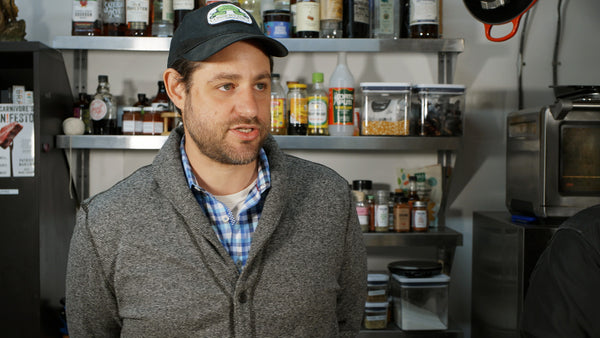 Meet Our Newest Farmer Partner, Frank Reese Protege, Jed Greenberg
The average age of farmers in the U.S. is 57.5 years old! But there is a movement afoot of young people choosing careers in agriculture as more opportunities arise to make a fair wage selling quality products sustainably.
We are proud to support many younger farmers including Jed Greenberg who in his 30s is taking on the monumental task of becoming the protégé of famed farmer Frank Reese, the Godfather of American poultry. Jed now raises guineas and chickens from Frank's breeding stock on his New Jersey farm! His heritage chickens are available for delivery FRESH the week of June 5th, 2023.
For Greenberg, the chickens reignite a century-old movement of kosher chickens being raised in New Jersey, where his great-great grandfather moved in the late 1800s to start a farm after immigrating to the U.S. from Lithuania. Southern New Jersey had long been a landing spot for Jewish immigrants starting with Russians in the 1880s. Escapees from Germany arrived in the 1930s and 1940s. After World War II, many immigrants, known as Grine, a play on the Yiddish word for greenhorns, found opportunity on local poultry farms.
"What Frank found with me is that I was someone totally committed to the same kind of mission that he was, preserving heritage breeds," said Jed, who met Frank about a decade ago. "He's got the grandparents stock, and now what he is able to do is focus a lot more on improving quality and not on production."
Jed's heritage breed chickens are available for purchase here.