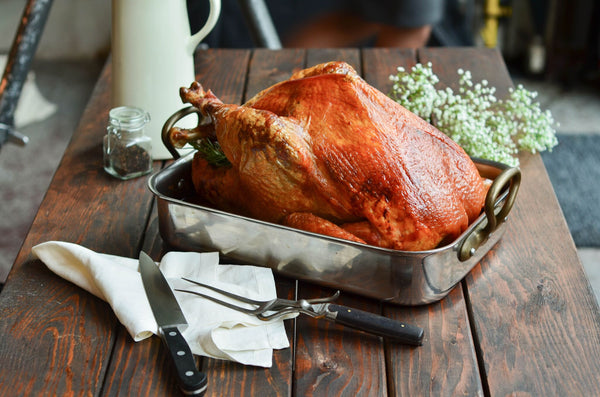 Preorder Your 2018 Thanksgiving Turkey raised by Frank Reese at Good Shepherd Poultry Ranch
It is that time of year again! Our heritage turkeys from Good Shepherd Poultry Ranch raised by farmer Frank Reese are on the site for preorder for Thanksgiving. All of our turkeys ship out fresh for delivery on Tuesday, November 20th.

Good Shepherd turkeys are the oldest line of turkey in America, 100% antibiotic free, and 100% pasture-raised on the Kansas prairie. This is by far the juiciest, most flavorful bird on the market today.

"A turkey is no better than the farmer behind it. And the genetics, of course," says Frank Reese, whose turkeys are one of the only flocks in America to receive certification by the American Poultry Association and the USDA as 100% purebred Heritage, standards that were set in 1873 to define and defend best practices in American farming.
Don't take our word for it, both customers and top Chefs rave about Frank's turkeys!
"Just wanted to let you know that the Heritage turkey was awesome. The white meat was totally juicy and the dark meat was well cooked.  Now I am making a wonderful turkey stock on the bones and skin." Lily, Ohio
"My Heritage Turkey was moist and delicious. Everyone loved the flavor and texture." Lynn, Colorado 
"Our Thanksgiving turkey was absolutely outstanding this year! Thank you for another memorable celebration. We were a little nervous, since it was a new species... Narragansett...but it was just wonderful. It's just probably euphoric recall anyway... having your turkey for the first time is an unforgettable memory."
Barbara, Florida
The turkeys we had from you for Thanksgiving were the best we have ever found and we have been slow smoking birds for over 40 years." Joe, CA
"The turkeys were amazing this year!" Nicole Brisson, Culinary Director Las Vegas B&B Hospitality Group
"We had a party at Panisse for Frank Reese, a remarkable heritage breed poultry rancher from Kansas. Our chefs cooked his duck, turkey and chicken. Amazing! I have always focused on sustainability and I forgot all about BREED. What a difference in taste!"  Alice Waters
"Promoting the importance of strong genetics is an important national issue and no one exemplifies this plight better than Frank. His turkeys are simply the best." Taylor Boetticher, The Fatted Calf