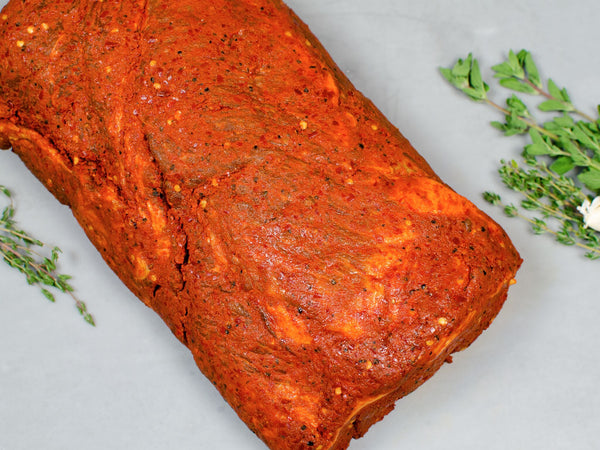 Introducing the "Alla Diavola" Calabrian Roast
We call this masterpiece "alla diavola" — it is fiery with a sweet tang that we find devilishly seductive. This oven-ready roast is hand-crusted by Antonio Fiasche of Nduja Artisans in Chicago, and takes less than 45 minutes in the oven.
The peppers on this loin are almost like a thick marinade that blackens in a hot skillet, and taste as if they were made from pure Italian sunshine at its strongest. The boneless loin is a thing of rare beauty even before it is cooked. It is a supremely marbled boneless Berkshire loin from Newman Farm; velvety and juicy, an epiphany of flavor, when combined with this proprietary blend of spices, a real "come to Calabria" moment. 
We won't kid you, there is a lot of great heat in the Calabrian peppers Antonio uses on this Berkshire pork loin, which are at the very heart of Calabrian cuisine. Calabria is carved from magical terrain and born of myth and tradition, birthplace of ancient lyric poets Ibycus and Stesichorus, and uniquely situated in what we usually refer to as the "toe in the boot of Italy." Separated from Sicily by the Strait of Messina, a mere two miles at its narrowest point, and from the rest of Italy In the north by the Pollino Mountains, Calabria is blessed with volcanic soil (which helps give its famed peppers their complex flavor), and an agricultural tradition that goes back 3500 years to its first inhabitants.
Antonio Fiasche of Nduja Artisans is a fifth generation curemaster whose family has run Ristorante Agostino in Chicago for over thirty years, without straying far from their Calabrian roots.  Everything Antonio creates is based on the best quality ingredients, from pasture-raised, antibiotic free Heritage pigs to the chilis sourced from Calabria in the southern-most part of the Italian peninsula. Producing charcuterie and other hand-crafted delights with old-school techniques requires one more ingredient — time — and nothing Antonio creates is ever rushed. 
Tony is America's great ambassador to Calabrian tradition, and can often be found at food fairs and festivals, sharing samples of his artistry with adventurous eaters who are always blown away by the intense flavors of his hand-crafted charcuterie, especially his signature 'nduja, the spicy, spreadable salumi that has become a star as a stand-alone snack, and as an ingredient to heat up pastas and pizzas. For all of his hard work Tony has won numerous awards, including the the Charcuterie Masters Grand Champion in 2016 for his outstanding finocchiona.