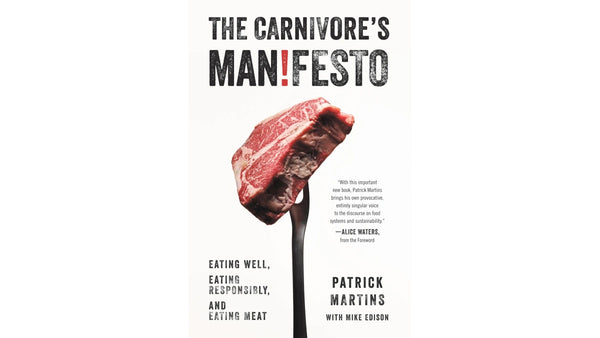 In Celebration of the Feast!
From the "Carnivore's Manifesto" by Heritage Foods USA founder Patrick Martins
In the words of Mae West, "Too much of a good thing can be wonderful!"
As in all things, of course, a little common sense could prevail.
But I'm sick of people telling me to eat only plants. Sure, health is wealth and all we want is for everyone to live a long life, but we also need to have times of wild abandon.
In the Middle Ages, feasts happened when food was abundant: the festivals of spring, summer, and fall. Feasting was a way of allowing yourself a temporary respite from your troubles, sometimes to a point bordering on revolution—during Carnival, kings behaved as paupers in a complete inversion of society, while the proles ruled the roost. The idea was, better to go all out tonight because you never know what tomorrow will bring.
I eat healthy, responsible food. Mostly. But as Oscar Wilde once said, "Where there is no extravagance there is no love, and where there is no love there is no understanding."
So for dinner tonight I think I'll order two hundred portions of grilled octopus shipped in from Spain, drizzled with olive oil from Sicily, and gilded with a few grains of sea salt from off the coast of Portugal.
Once my appetite is piqued, I'll dig into a plate of carne cruda, a ball of raw meat no smaller than a watermelon. It's better than steak tartare, prepared with olive oil and lemon instead of a cracked egg so it's that much lighter. See? I am very sensible about these things.
For the next round, more meat, of course, but nothing too heavy, as I am still just prepping my incisors for the main event. Perhaps just thirty or forty appetizer-sized portions of Akaushi eye of round carpaccio, served with a deli- cate Parmigiano-Reggiano, aged for exactly two years, no more and no less, to give the whole thing some legs and help it dance on my palate.
Clearly, I'm going to need some wine to wash this down with — I think we'll start with some Bandol Tempier. Two cases should be just fine, it is so easy to drink! And then something a little bigger, perhaps a Barbaresco. Along with sparkling water, I am thinking a few cases of Budweiser— it really does go with anything.
While waiting for the main course I always like to amuse myself, and I think, in this case, a half dozen or so of New York City's greatest gastronomic gift to the world of noshing ought to do it: the everything bagel with lox. And of course, wild Alaskan salmon is the only salmon that can stand up to a bagel covered in seeds, red onions, capers, and cream cheese.
And now I am ready to rumble.
For the main course, a bit of Eastern flair would be a good turn: two dozen Pekin ducks from Good Shepherd Ranch in Lindsborg, Kansas, prepared Peking style with pancakes and plum sauce and scallions, which I'll roll up like fat, duck-filled doobies and wash down with a dark beer from North Coast Brewing Company that is just bitter enough to groove with the sweet meat and not fight it.
Just to prove to everyone that I am not crazy, this will be the time for something green. Three Caesar salads will do, prepared tableside, and don't be stingy with the ancho- vies, preferably from SeaLab Italia, in Bra. Now the way is clear for the cheese course, which I prefer in the form of a hot tub of fondue of raw-milk cheeses from my favorite East Coast dairies—Meadow Creek Dairy, Spring Brook Farm, and Landaff Creamery.
For dessert, a baker's dozen of quindim pies — a custardy Brazilian delicacy that is so time intensive to make, what with its hundred-eggs-per-pie mandate, that hardly anyone besides my mom makes it anymore. She whipped one up for me last year for July Fourth — you would know it by the trail of comatose bodies it left in its wake.
But before I call it a night, I'll take my time with three bottles of Fernet Branca. No matter how popular it gets with the trend chasers, it's still the one thing I can count on to help calm the ol' gullet after a snack like the one I just imagined. It's kind of like Jägermeister for adults.
The post In Celebration of the Feast! appeared first on HERITAGE FOODS USA.