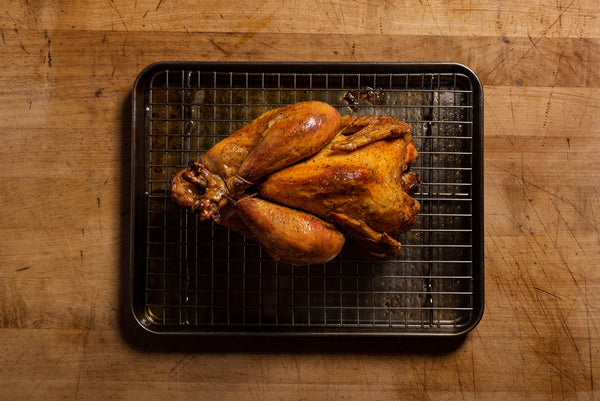 How to Truss and Roast A Whole Heritage Chicken
Learn how to truss and roast a whole heritage chicken! Standardbred chickens are slow-growing and pasture raised to 16 weeks, more than double the industry standard. Each chicken is laced with ribbons of sun-yellow fat that self-baste the bird as it renders, resulting in silky meat and crackly bronzed skin.
Whole Heritage Chickens are now available Fresh for preorder to ship for delivery the week of June 5th, 2023. This is a groundbreaking development for the heritage meat movement and the cause of biodiversity in food because our collaboration works towards preserving (and eating!) poultry that are on the brink of extinction.
Kansas-based heritage farmer Frank Reese, who has made it his life's work to preserve endangered breeds of poultry, has worked for years to maintain stronger lines of chickens. Reese has partnered with his first-ever protégé, Jed Greenberg of Chosen Farms, to raise and process heritage chickens in New Jersey.