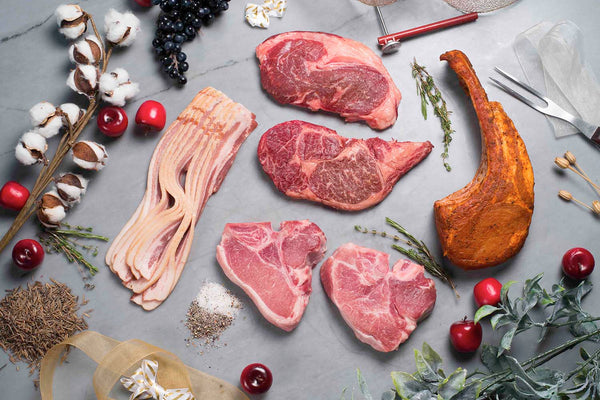 Top 5 Holiday Gift Ideas!
If you're having a hard time getting your Christmas shopping list together, Heritage can help! We have gift packages that are perfect for every meat-eater on your list. Plus, gift notes are free! Best of all, many options are available for under $100!
Heritage Bacon Lover's Sampler $169 
This package comes with 8 different types of bacon, cured exclusively for Heritage Foods by America's most interesting artisans, using our Heritage breed pork!
Steaks, Chops & Bacon $118  
We have selected our most popular cuts for this amazing package. Ribeye steak and porterhouse pork chops are at the very apex of incredibly flavored, toothsome treats...and did we mention bacon? A true crowd-pleaser, or a prize-winning gift!
Wagyu Burgers and All Beef Hot Dogs $59
For the grill master, this package is a dream come true!
Mix n' Match Heritage Bacon Pack $65
For the bacon lover, this mix n' match package is a dream come true! Choose from 8 different types of bacon to craft your perfect bacon package!
Breed Tasting Kits $52-$288
Our Breed Tasting Kits offer a unique opportunity to compare different flavor profiles of different heritage breeds! Choose from salami, bacon, steaks, chicken and more!
There are so many more wonderful options on HeritageFoods.com! Send us an email at info@HeritageFoodsUSA.com or call us at (718) 389-0985 and our customer service team will be happy to offer ideas and suggestions for everyone on your list!