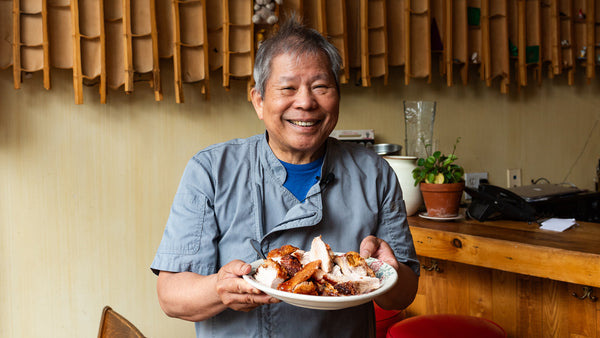 Heritage Red Wattle Lechon with Chef Romy Dorotan of Purple Yam
We are so happy to get behind the scene access to one of NY's best restaurants, Purple Yam. On a recent visit Chef Romy Dorotan taught us how to prepare pork belly Lechon in the Filipino style!
For 25 years we have known Romy and Amy Besa, the team behind Purple Yam, a Filipino restaurant in Brooklyn. We first met when Patrick was working at Slow Food in Italy around 1998. Amy called him and asked if she could help launch the movement in the U.S. Amy is always working to improve the culture of gastronomy around the world.
At the time she and Romy owned Cendrillon a spacious (1,750 square feet in area) restaurant in SOHO which served so many interesting guests including professors from the New York University campus next door. For so many New Yorkers Cendrillon was their first taste of food prepared in the style of this region of the world! And for so many young Filipino chefs today, Cendrillon opened the door for them to cook today. Amy and Romy really started something on these shores that had not existed before.
After Cendrillon closed we kept in touch. And thankfully they reopened as the Purple Yam on Cortelyou Road in 2009. The restaurant is a must visit to taste the simply prepared flavors of the Philippines in an easy going setting.
Amy and Romy came to the States in the 1970s. They met and married in 1981, and opened Cendrillon in 1995. Romy was the chef and Amy ran the front of house with her warm presence and infectious laugh. Amy always has a project she is working on and her energy is contagious. One important cause for Amy is bringing food education to people in the Philippines. The couple went on to publish the award-winning Memories of Philippine Kitchens in 2006.
Besa explained in a recent interview by Nana Ozaeta:

"For me, the Filipino food movement started the moment Filipinos set foot in this country and started cooking for themselves. We are just part of that line. And there's no such thing as we started this or someone started it. What we did was we put in our own interpretation."
There are chefs everywhere, and some are special. On a quiet road in Brooklyn, Romy is still operating and turning out great dishes, humbly. Try everything but especially their pulled pork in steamed buns, chicken adobo, Lumpia, dumplings, Pancit Bihon Noodles, Chicken Thigh Sugba, Oxtail Kare Kare with Bagoong, and Goat Curry!