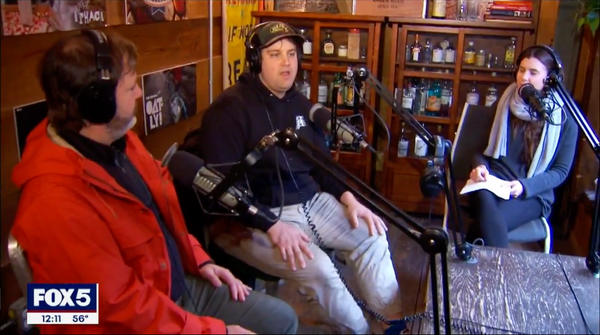 Heritage Radio Network on Fox 5 NY!
The Heritage Radio Network (HRN) was recently profiled by Fox 5 News! Check out this clip with Patrick Martins, founder of HRN and Heritage Foods, and co-host of The Main Course O.G!
Heritage Radio Network is the ultimate destination for savvy, entertaining, conversations about what's going on in the culinary world. The independent, member-supported, 501(c)(3) nonprofit radio station, broadcasts from two recycled shipping containers behind Roberta's Pizza, a restaurant at the forefront of Brooklyn's culinary renaissance.
The Main Course was the first show to ever debut on Heritage Radio Network (HRN) back in April 2009 and the first show to reach 200 episodes! Now called The Main Course O.G., its original host and HRN founder, Patrick Martins is joined by Emily Pearson of Heritage Foods, Brandon Hoy owner of Roberta's, Trigg Brown Chef and owner of Win Son and Win Son Bakery, and author/musician-in-residence, Mike Edison. Each week special guests join the panel to discuss entertaining topics of the moment in a no-holds-barred roundtable format that will surely make you laugh — from CBD oil to Meghan Markle to Jewish tête-oir and stories of iconic food and culture visionaries. The round table is followed by a short interview with our visiting guests which include America's smartest chefs, farmers, artisans, and activists.
Check out their archive and daily schedule of shows on their website!