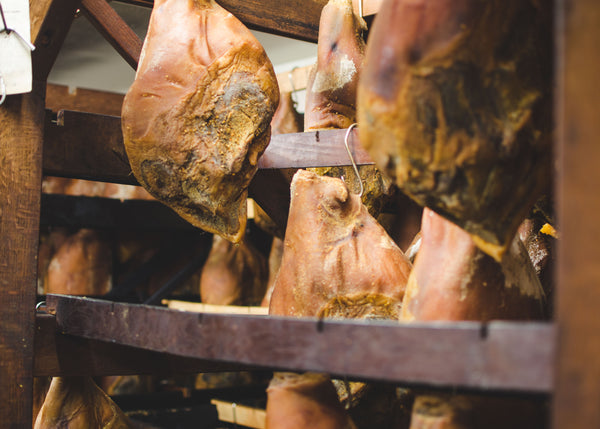 Heritage Magical Meat Tour Heads South: In Search of the Great Country Hams Part 2
Benton's began in 1947, when dairy farmer Al Hicks cured hams for local farmers. "Ham was sustenance food for hillbillies," Al Benton says of the very thing that has become a culinary legend.
In 1973, Al was a High School guidance counselor struggling to make ends meet when he decided he was going to give a go to what he knew best.  "I quit my job and then it really sunk in – it wasn't going to be easy to make a living curing hams…. so I wrote to everyone I could think of, anyone who could help, university professors, cooks, I wanted to hear everyone's ideas, and I studied everything I could, but I could never improve on the recipe from the old smoke house behind the house I was born in — people really seemed to like it. At the beginning I was thinking about curing quickly, maybe one hour for a twelve-lb. ham – I thought if I was going to make it in this business I had to work very fast and quick-cure, which is what the business was. But my daddy told me 'If you play the other guy's game, you are always going to lose. Make it the best you can. Quality is what is going to sustain you.
"Blackberry Farms changed things, this was in about 1991. We had just two employees then. John Fleer was the chef at Blackberry and he was already something of a star – he had been Mary Tyler Moore's personal chef! John is such a good man, I never even heard him raise his voice, which is very rare among chefs… and he cared so much about sourcing. He called on day, he had bought some stuff from us, and I thought he was going to complain, but he wanted to see if it was okay to put our name on his menu at Blackberry. I thought there had to be a reason why not, but I couldn't think of one. And then the phone started ringing, he had so many great chefs coming to visit him — Tom Colicchio, Thomas Keller — I guess that's when I saw the Promised Land. There was a market for fine dining with the aged country hams and bacon."
Later that night, dinner talk turned to moonshine, music, and professional wrestling — Tennessee, and Memphis, especially, being mecca's of the great sport, led by it's own King, Jerry Lawler, who's greatest rivalry was a Jewish comedian from New York named Andy Kaufman. But mostly we talked about food, and mostly about ham. Al spoke with great admiration for his colleagues Sam Edwards and Nancy Newsom, to whom he gives great credit for bringing traditional Southern ham north.
"People are really starting to care where their food comes from — Look, when McDonald's is talking about cage-free eggs, they're reading the tea leaves. It gives me pride that small folks have been able to make such a ripple in food culture."