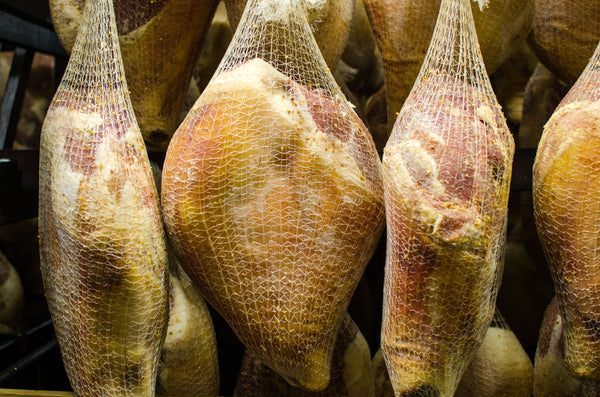 Heritage Magical Meat Tour Heads South: In Search of the Great Country Hams Part 1
Is southern charm one of the ingredients necessary to make a great country ham? You might think so if you ever met the Don and Doyenne of great country hams, the legendary Al Benton, and the unsinkable Nancy Newsom. 
Al Benton, An Audience with A Godfather of Southern Cured Ham
It was teeming rain on the way from Nashville to Madisonville, Tennessee, the kind of rain that obscures the green, Smoky Mountains of Tennessee behind sheets of steam and fog and sounds like war drums on the roof of a rented car. It didn't take much imagination to think we were driving through Skull Island, home of King Kong, or had somehow made a detour into the Heart of Darkness, a scene from Apocalypse Now.  The truth, however, was far more comforting: We were on a mission to see a King and Queen of country ham, Al Benton and Nancy Newsom.
Making personal visits to farms, chefs, and providers has always been one of the hallmarks of Heritage Foods USA, and as anyone who has ever been on one of these trips with ringleader Patrick Martins knows, they are magical meat tours indeed, whirlwinds of gastronomic bliss and historical culinary discovery, epicurean epics writ large in regional cuisine. And, a hell of a lot of fun.
Benton's Country Hams was the first stop on this pilgrimage to the cathedrals of southern ham, and we were greeted by the man himself in his small, roadside storefront.
"Don't call me Mr. Benton," he chided with a smile, "I'm Al."
Al Benton speaks with an unerring southern twang that is like catnip to New Yawkers. And even though he teases at himself for being a hillbilly, he can't hide his business acumen or old-school good looks — his smile is half Robert Redford and half Jimmy Carter, equal parts star power and earnest American. Speaking to him about his business is a powerful lesson in pride, good taste, modesty, respect for history, and the providence of good timing — both Al and his Kentucky counterpart, Nancy Newsom were lucky enough to catch the rising tide of foodies and enlightened chefs who recognized the soaring quality of their country hams just as cosmopolitan foodie culture was exploding.
While we spoke with Al, a steady stream of customers came in to buy bacon, ham parts, sliced country hams, and more bacon — young men wearing camo pants and trucker hats, soccer moms with their kids, a middle-aged man wearing a Grateful Dead t-shirt… ham does not discriminate. "The Southern Food Alliance," Al mentions matter-of-factly, "is built on the idea that if you sat down at the table we are all the same. It doesn't matter where you come from or what your ethnic background is." Indeed, ham is the great equalizer.
Tommy — Al's plant manager and right hand man ("Sometimes he's up to his elbows in bacon grease, sometimes he is solving problems on the phone.") — accompanies us with Al on a tour through his facility, which from the road looks no bigger than the storefront, but turns out to be a warren of rooms filled with hams hung to dry or curing in salt, a veritable bunker of porky goodness. The smell of hickory smoke kisses you on the face at every turn.
Al tells us about running into a burning smokehouse to literally save his bacon, screaming at the firemen "DO NOT USE YOUR HOSES, THERE IS BACON IN THERE!" and ruminates on his favorite places to eat: "I love Charleston, and New Orleans, but New York City, that's the place, you can get everything… if I had one place to go there, though, it would be one of David Chang's restaurants." And why not? Chang's Momofuku empire has been one of Benton's great champions, and in fact, our pilgrimage follows the one made by Momofuku executive chef and prime mover Matt Rudofker just a week before.
There is no secret to the Benton formula for ham, it could not be simpler: "Just salt, sage, black and red pepper… we don't use anything you can't pronounce. You look at some of these industrially made hams – you can't even read the ingredients, they have so many and things you never even heard of."
They use a wood stove in the smoke room, burning local hickory — "The wood comes in when it does. When people are running out of beer and milk and want to sell some wood, they come see me. That's always the way it's been."  The hams spend three days in the smoke room to get that intense flavor. Bacon takes about five weeks to make, moving from curing (brown sugar and salt) into cooler rooms and then a heated room; hams can age up to two years. "You have to age the hams – it's like cheese, it starts mild and when you age it the flavor becomes sharper."