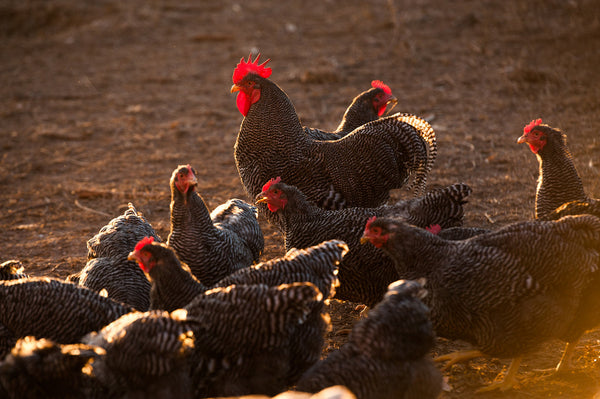 Heritage Chicken Tour Takes Flight!
Heritage Foods USA is proud to announce our historic effort to revive 24 rare, heritage chicken lines and create an alternative market for non-industrially bred chicken.  We are partnering with Frank Reese, the country's preeminent poultry farmer, to show our customers what real chicken tastes like.
Heritage Foods USA will offer a rotation of 24 heritage chicken varieties every 3 months starting immediately.  Numerous heritage breeds of chicken are on the brink of extinction and we must create a market for them by eating them. Heritage Foods USA is the only place you can taste these special heritage birds today.
Heritage chickens are breeds that have been around since before the industrial era.  Their genetic lineage has been preserved from genetic modification.  Heritage birds grow at a healthy rate, while industry chickens are genetically manipulated to grow at an unnaturally fast rate that is harmful to the skeletal, cardiovascular, and immune systems of the bird.  Industrial chickens are bred as dead end animals that cannot reproduce or survive on their own. 
Mr. Reese explains, "It is not the antibiotics. It is not the hormones. It is not the feed. It is the genetically engineered animal" that makes the difference in the poultry industry.  If we focus on animal welfare while ignoring the genetics of these birds, we are not changing a thing. 
Mr. Reese's poultry not only look and taste different from commodity poultry; his birds have double the protein and half the fat.  He told us, "The skinnier the bird, the longer the leg, the darker the meat, the higher the nutrition. The bigger and fatter and plumper it is, the more worthless the meat is."
Our inaugural breed is the Wyandotte of the Columbian variety.  This very old American breed of chicken was first exhibited in 1890 at the Columbian World's Fair in Chicago.  There are fewer than four breeders in America who raise the Columbian Wyandotte to the true old standards, and most have fewer than 25 hens. We hope you will support our commitment to revive heritage chickens and establish an alternative poultry market.