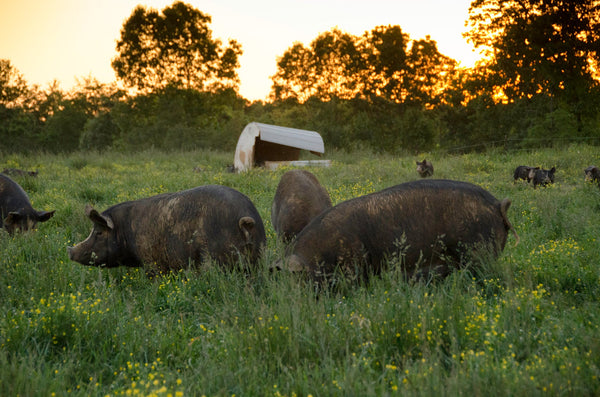 Help Us Protect the Healthiest, Most Ethical, and Tastiest Meat Available!
Dear Heritage Foods Supporter,
It has been a tremendous year for Heritage Foods, heritage breeds, and heritage farms.
With success comes challenges: Right now there is a movement in the commercial food industry to change the definition of the word "heritage," and attempt to lay claim to the very thing that has defined us and sustained our farmers since we began selling heritage breeds in 2001.
It's funny that "heritage," a word that meant little to big business when we started, is suddenly so appealing.
The definition of "heritage" is simple, and tied to a proud history:
HERITAGE livestock and poultry are purebred genetic lines that can be traced back unchanged to an original herd or flock prior to the beginning of industrial farming.
There is no such thing as a new heritage breed. We understand trendy marketing, but "heritage" means something significant to us, to our farmers, to our customers, and to our industry.
As we look to 2018, we will continue to fight for genuine heritage farms and breeds.
It's important to remember that when our partner farmers originally decided to raise heritage breeds, they were taking a huge risk. Traditionally, the only established, secure, and reliable sales outlet for farmers was the commodity market — venues like commercial supermarkets and the fast food industry — which pays pennies on the pound for product and demands the very worst of industrial farming protocols just to make a profit.
By committing to heritage breeds and slow, traditional farming practices, our farmers have become entirely dependent on those who understand the value of genuine heritage breeds. Call it community-supported-agriculture, or chef-supported-agriculture if you like, but at its heart Heritage Foods is a network of hardworking American family farmers who believe in your right to the healthiest, most ethical, ecological, and tastiest food imaginable.
By buying certified heritage you can be certain that not one penny goes to industrial farming. Your continued support ensures heritage breeds gain in strength, numbers, and importance in our national dialogue on food.
We are always on the lookout for new and exciting culinary adventures — especially in the charcuterie world and with our oven-ready creations — but our brand is based on time, tradition, history, and respect. That is the true meaning of heritage.
We hope to hear from you early and often in 2018!
Thank you for your support.
Sincerely,
Patrick Martins
Founder