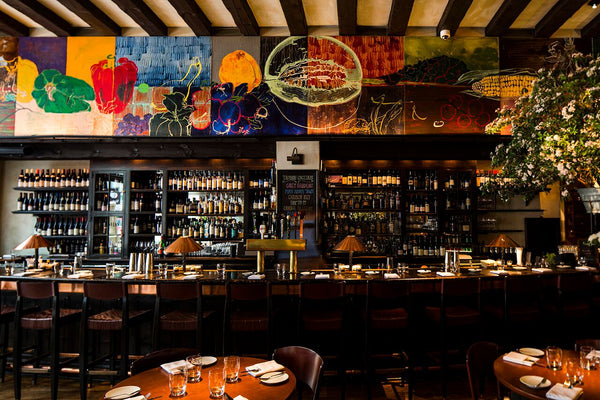 Gramercy Tavern, a New York City Institution
Gramercy Tavern is a New York City institution, and its glorious flower filled dining room is an absolute must visit at least once a year, especially during the holidays. The crown jewel of Danny Meyer's restaurant empire, a group that has redefined hospitality and service for the entire industry, Gramercy Tavern is helmed by Chef Michael Anthony. One of the loveliest individuals in the restaurant world, Michael has always been there for Heritage Farmers who fight to resist cutting corners in how they raise livestock and who work to preserve rare and endangered breed ingredients on our dinner tables.

Almost 30 years later, Gramercy Tavern remains one of the city's most popular restaurants. The staff, many of whom have worked there for decades, are sure to remember repeat customers — although even a first timer is treated with supreme respect — and walking into the Tavern feels like an extension of one's own home.
Gramercy Tavern was one of our very first customers and has always purchased our heritage turkeys for Thanksgiving and pork cuts year round. They have also spearheaded other movements in the food world, like their seasonal cheese cart which helped launch the American artisan cheese movement.

Gramercy Tavern Chef Aretah Ettarh with Catherine and Emily of Heritage Foods
Today we feature Gramercy Tavern's Grilled Pork Shoulder, which is so good we just started selling the cut on our website for the very first time in 20 years! Included is the recipe for their seasonal set, featuring broccoli, bok choy, pumpkin seeds, and cilantro crema.
Chef Michael Anthony loves the Boston Butt for this steak because it is flavorful and moist. He says the yield is impressive — almost 100%. As they cure and slow steam the shoulder in advance, the pick-up to order on the wood fired grill is fast and easy which makes his team's life easier.

We are thrilled to be able to enjoy our famous and supremely marbled Boston Butt on the grill in this way! Quick and easy are not words often associated with pork shoulder, but they are now!