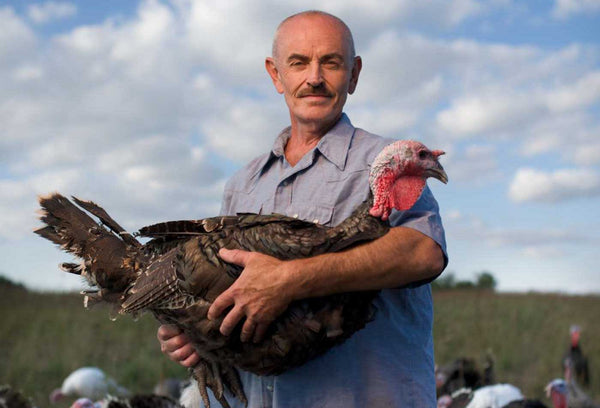 FRANK REESE, AMERICAN HERO
Photo by Jim Richardson
A turkey is no better than the farmer behind it.
Long-time Heritage customers know that we got our start selling Frank's turkeys, raised traditionally and responsibly on his Good Shepherd Farm and our relationship with him remains the cornerstone of our business.
Frank is a true hero of the Heritage food movement — he is the first and only sustainable commercial farmer to receive certification by the American Poultry Association for his birds as purebreds, standards that were set in 1873 — and he has been featured in publications ranging from the New York Times to National Geographic. His story is the Rosetta Stone of sustainable farming, and the reason why when it comes to meat, the word "heritage" is synonymous with "heirloom." Good Shepherd turkeys are the oldest line of turkey in America, 100 percent antibiotic free, and pasture raised on the Kansas prairie.
"The biggest thing this year," Frank says, "is that we've added two new farms to raise turkeys this year to meet a bigger demand. We never seem to have enough — hopefully this year if everything goes well to have twice as many turkeys as last year. But it's still a drop in the bucket — our four farmers are going to raise what one big commercial plant will do in a week.
"But here are more and more people who want our birds — Some people who have had Heritage birds have tried to find something else, but they always come back."
And it's true, once you have experience the true taste of a Heritage bird, one that hasn't been juiced with salt water and flavor enhancers, one that has been raised naturally and allowed to roost and roam and mate naturally, you will never look at another supermarket bird the same way.
Heritage turkeys are available now for Thanksgiving delivery. Isn't it time you became part of this great tradition?
The post FRANK REESE, AMERICA HERO appeared first on HERITAGE FOODS USA.