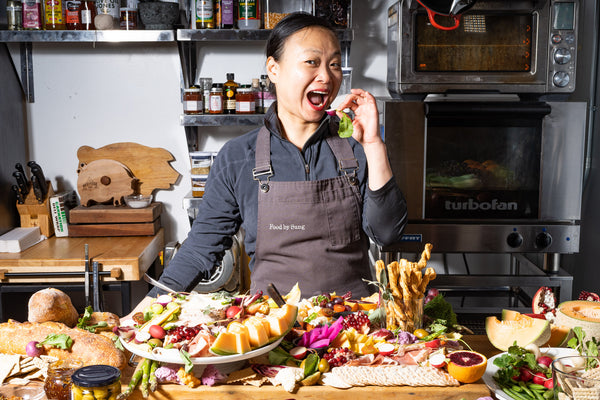 Pro Tips for Successful and Stress-Free Parties
As a meat mail order company Heritage Foods has a vested interest in knowing that our delicious meats are a backdrop to successful and stress-free parties, so we asked our friend Sung Kim, one of the premier caterers in the nation, to help us with a Journal post dedicated to helping reluctant hosts dominate the entertainment and hospitality universe in their home!
In the famous TV sitcom Mary Tyler Moore, Mary was famous for hosting terrible dinner parties which always ended in disaster. But no party has to ever be that way!  In this series of do's and don'ts for entertaining, Sung shares some of the lessons she has learned planning and carrying out thousands of events over many years. As a former visual artist, Sung is a master of aesthetics and believes in the power of beautiful tablescapes to transform the energy of an event.  For more on Sung and to see her gorgeous creations, please visit her website.
Sung's first key to a great event is that the host fulfill the most important goal to any dinner party: hosts must enjoy themselves — and be present at the actual event!  Fun is contagious!
As host, don't stress about the food coming out exactly on schedule — most of your guests won't be on time anyway! Cocktail hour is about giving time for everyone to arrive at their own leisure — and providing ample time for cocktails, wine and beer which will make guests who arrive punctually very pleased.
Before the dinner even starts, have something ready to go! Providing light bites easily can buy a host more time for final preparations. Sung says that the comfortability of a group can be determined by how soon guests take their first bites of the evening. Providing drinks at a leisurely cocktail hour will bring a feeling of ease to your guests and they will start to fill themselves with your delicious hors d'oeuvres — don't worry too much about predetermined schedules!
As always, we recommend serving the best ingredients – Sung says it's a short cut – like artisan cheeses, charcuterie from the great curemasters, anchovies over buttered crackers for example. Sung believes great ingredients are half the job of cooking like Alice Waters who says agriculture is 95% of cooking! In essence, delicacies and taste epiphanies are a host's best friend.
Sung recommends to not cook anything at the last minute, which adds pressure to the host, unless you have to. Cook beforehand, even a few days before is okay. Parboil! You can always re-heat, and many dishes do not need to be served hot in the first place. Most foods end up not being hot by the time they get to the table anyway — don't worry too much about temperatures. If you need something to be hot, like soup, you can heat the plate first so that a preprepared soup arrives hotter 
As a guest, if you are asked to bring food to a pot-luck type event, bring cooked food! Do not bring food that needs major prep in an already chaotic kitchen. For a guest, bringing bags of groceries is bad!
Sung likes to undercook everything because most foods will continue to cook after leaving the oven —overcooking is not ideal. Sung gives the example of when someone burns his or her finger, the finger hurts more afterwards. Meat is the same! Knowing that foods continue to cook will save valuable minutes not having to wait to bring foods to exact recommended temperatures.
Sung also explains that running out of a dish is okay, presuming a host serves many things — essentially make sure you have a lot of food but not necessarily a lot of each-and-every dish.
Now we enter into Sung's real wheelhouse, namely how to make events look beautiful!  As a former visual artist, Sung is a believer in aesthetics and that all things must be prepared thoughtfully.  Flavor and technique are important, but the way things are laid down, composition on the plate, or even the length of a stem of a flower, matters! Sung spends significant time well before the event begins to make sure things look lovely.  Garnishing a platter takes longer than you will think!
Color is a tablescapes' best friend, as is texture. For heritage meats and bulky centerpieces, bring in reds (cranberries) and green (pine leaves and hard herbs). Add texture by elevating certain components of the menu — different heights and using different materials on the table make the main ingredient shine and improves the way people experience the event. 
Sung says displays that appear too intentional is often a mistake. Organic is good! Don't make shapes out of celery sticks for example.  If you can pull it off, plan it all but make it look like your decoration is an accident. Whimsy is not easy to achieve but it can be a goal! Follow your instincts, be playful, have fun! While some are tempted to over decorate, Sung explains that less is more often thinking about the negative space on a table or plate. Sometimes it's right to fill all space, but other times the opposite is best. Every experience commands a different approach. 
Sung always decorates first! For example, she will decorate a platter then slice the meat separately, then place the meat on the platter so as to preserve the artistic integrity of the presentation. If guests are serving themselves sometimes rearranging is necessary to tighten the presentation! 
This Journal entry is just the tip of the iceberg to fun tips for hosting! We love writing about the subject because it transports us to a fun place where conviviality, sharing, and lasting memories reign! We hope you will continue to follow our Journal for more advice from our Ace in the hole, Sung Kim, caterer extraordinaire.