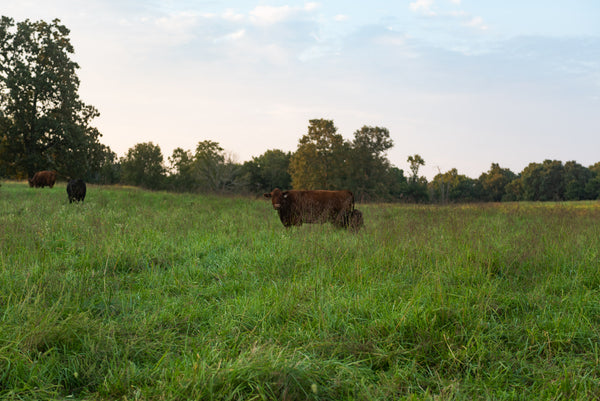 Eighth Cattle Share
For the fourth year in a row, Heritage Foods USA is taking part in a uniquely sustainable model of meat consumption: the Eighth Cattle Share. Though Heritage supports eating sustainably year-round, this nose-to-tail project allows our customers to purchase an entire eighth of a steer – including all of the cuts – leaving minimal waste in its path. By using the entire cow, small cattle farmers need not worry about selling individual cuts, lifting the heavy burden that comes along with the traditional model of selling cut-by-cut. However, this opportunity also provides our customers with special cuts of heritage cattle breeds at one low price.

Heritage Foods USA considers this project to be one of our most important of the year. For our initial eighth cattle share, we're teaming up with Craig and Amy Good of Good Farms. Located on the northern edge of the Kansas Flint Hills, this area is the last vestige of the Tall Grass Prairie – a fertile strip of grasslands that supported untold numbers of cattle in our country's formative years. Grass is arguably the best feed for cows, and the mix of Big Bluestem, Little Bluestem, Indiangrass, Switchgrass, Prairie Dropseed, and Sideoats Grama is responsible for producing the tastiest grass fed, American-bred Angus cattle in existence.
Though Pure Black Angus genetics are the most commonly used in America today, a 100% Angus herd like Craig Good's is rare and hard to find. Good Farms has become one of the most reputable sources of pure-bred livestock in the country, and we applaud The Goods for caring so much about the quality and integrity of their cattle.
Heritage offers three ways to support this year's eighth cattle share project, all of which will fit in a standard-sized freezer. Our largest package, the True Eighth, features sixty pounds of ground beef, brisket, short ribs, and three different cuts of steak. For those with a smaller apetite, The All Star Cuts package offers the same prime cuts with significantly less ground beef.
Still, for some, buying in bulk can be a pretty big commitment. Want to support the Eighth Cattle Share project and the small farmers it benefits? Buying ground beef helps these farmers significantly during the butchering process, because virtually any left over parts of the steer can be ground. For this reason, Heritage Foods offers three different ground beef packages, in varying quantities. What better way to prepare for the summer grilling season than by stocking your fridge with the best Angus beef that money can buy?
Stay tuned for additional eighth cattle share packages from Highland, Simmental and Belgian Blue breeds of cattle throughout the summer.
The post Eighth Cattle Share appeared first on HERITAGE FOODS USA.