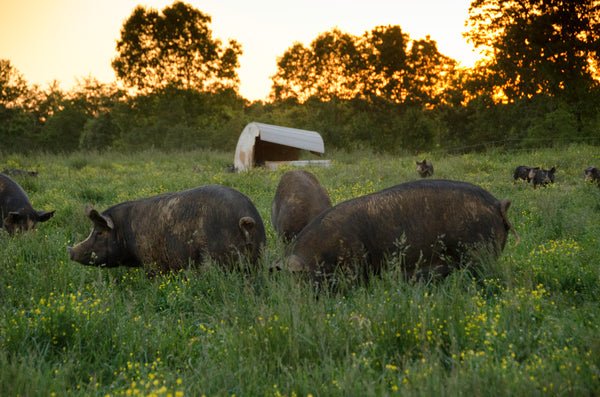 David Newman on Berkshire Pork Genetics
David Newman is a farmer and a scientist. His degrees are in animal science, and he holds a Ph.D in meat science and muscle biology, focused on meat quality. In the 1990s David's parents decided they wanted to go back to their roots. They were going to have to be very large to be successful in the commercial sector, so they decided to focus on quality. They changed our genetic program and nutrition program and became Certified Humane®. They chose to focus on Berkshire pigs for their quality.
"Why Berkshire? We chose the Berkshire breed for our pasture based farming operation for several unique reasons. First, the Berkshire breed produces the highest quality pork of all breeds in the world. The meat is dark in color, extremely tender, and well marbled. Second, Berkshires are a heritage breed and are very adaptable to outdoor production systems. They perform well on a pasture operation unlike many other breeds or cross-breeds that are used around the world today.
Winter rain, a blessing and a curse! On the farm it is usually not a good thing to talk bad about rain. After all, we need the moisture to produce high quality grass for our pastures. We utilize these pastures for our hogs, our cattle, and our sheep. Without rain we would fall into a drought which can have devastating impacts on farmers. That said, this year has been unusually wet, making it very hard work for all of us on the farm. The mud makes it difficult to get equipment around, especially when we are trying to check on cows that are pregnant and getting ready to have baby calves. Our spring calving season starts on February 15 so making sure that the new baby calves have a good DRY place to get started in the world can be a challenge. But, challenge accepted! All is well and we are looking forward to seeing new green grass!"
Try some Berkshire pork from the many cuts and selections on our online store!