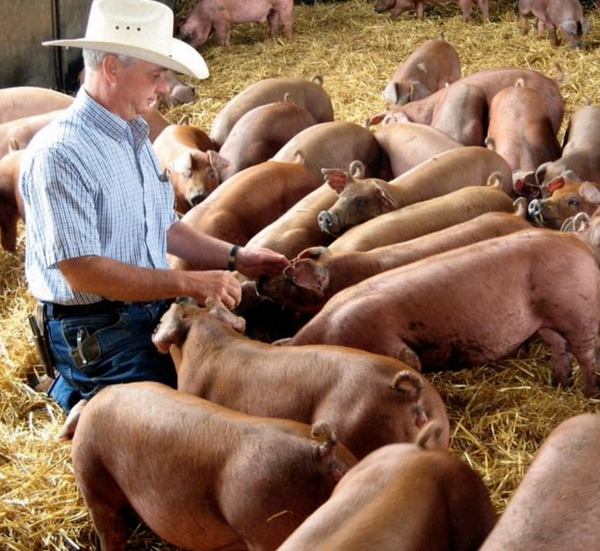 Craig Good's Great Livestock
So you've enjoyed a grilled heritage Angus steak and have savored the buttery flavor of our Old Spot bacon, but now you want to know more about the origin of these finger-licking cuts? You may already know that Heritage Foods USA works with independent family farmers across the U.S. who serve as the foundation of Heritage Foods USA's mail order division and supply America's top restaurants with premium cuts of pork and beef- but who are the masterminds responsible for prolonging the blood lines of the exclusive breeds Heritage Foods promotes? Wonder no more! Introducing one of our hog and beef farmers: Craig Good.
For more than 50 years, Craig Good has worked with livestock at Good Farms, located on the northern edge of the Kansas Flint Hills in Olsburg, Kansas. Historically, this area was known as the last vestige of the Tall Grass Prairie- a fertile strip of grasslands that supported untold numbers of bison in our country's formative years. Given its history, Craig's father, Don, bought the farm in 1961. Don quickly became a nationally recognized authority on beef cattle – an honor that has been passed down to Craig through hard work and close attention to genetic refinement. Early on, Craig took an interest in the family business, and after graduating with a degree in Animal Science from Kansas State in 1975, he began working for a pure-bred swine breeder. In 1981, Craig and his wife, Amy, decided to move back to his childhood home to carry on the legacy of his family's farm.
The Good Farm is very diverse – raising various crops, 100% Angus cattle, and several heritage breeds of hogs. The farm's modest size allows the couple to focus on quality, rather than quantity,  through the enhancement of their livestock's genetics. Working with Heritage Foods USA allows the Goods to make a living without converting into an industrial-sized farm.
"We feel that true quality is achieved by working with detail and care in breeding our hogs, not just cranking numbers and pounds off the farm," Craig explains.
Good Farm's size offers other benefits, too. Recently, Craig had the opportunity to experiment with the diets of his pure-bred Duroc hogs. Instead of the traditional feed, oats, Craig tried feeding these special swines a meal of dried cranberries and plums. Not only did he receive a positive response from the chefs to which he supplies pork (the Duroc's normally tame fat became much more fragrant), but the pigs enjoyed this tasty change to their daily diets, as well. This experiment  is just one example of how Heritage Foods USA and its farmers are finding creative ways to revolutionize the food industry.
The Goods are selective with their breeding, and are working to create the best possible future generation of swine. In addition to the Duroc, Craig and Amy raise a small number of Old Spot and Spot Rock pigs – a cross between Old Spot and Duroc pigs. Previously, the couple raised Yorkshire hogs as well, but decided to focus their attention on the Duroc breed due to their rapid growth rates, great muscle quality, and pure, yet mild flavor.
During a recent visit to his farm, Craig told the Heritage Foods USA team that his favorite thing about his farm is being surrounded by his pigs.
"I've loved pigs ever since I was in 4H, back when I was thirteen years old. Some people don't like pigs but I do… I like to think there's a really good relationship between us and our pigs."
Craig and Amy feel a strong responsibility to our nation as farmers.
"We are proud of our place in the farm economy and hope that we can continue to serve the producers that have been true to us over the years," Craig says. "We feel that the family farm has been a true asset to America and we strive to work together with our fellow producers to remain a viable part of the future. We have a strong commitment to produce pigs that are of the highest quality possible."