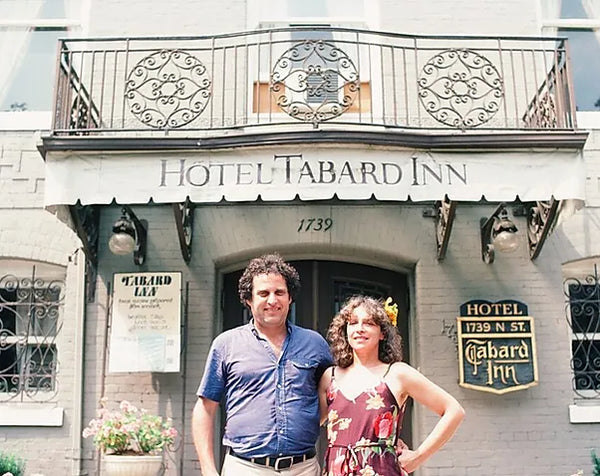 Chef News: Mourning the loss of Fritzi Cohen
An early believer of Slow Food and Heritage Foods, we mourn the loss of the great Fritzi Cohen, founder and former owner of the historic and now Employee-Owned Dupont Circle boutique hotel and restaurant, Tabard Inn. 
Obituary below:
Fritzi Cohen, co-founder and self-described "matriarch" of the fabled Tabard Inn, philanthropist, and a lifelong advocate for peace, justice, and the environment, passed away on December 20, 2022.
With boundless energy and enthusiasm, Fritzi's extraordinary life was dedicated to continual discovery and pursuing eclectic interests where good food, music, theatre, and art mixed with political pursuits for peace and justice.  Though serious in her activism, a warrior for peace, she also brought an engaging vitality, an easy laugh, a singular sartorial flair, and, as a friend noted: "Fritzi put the 'f' in 'fun.'"  And, sometimes unexpectedly, her wry humor captured the essence of an issue.  A bumper sticker displayed in the D.C. home she shared with her husband and three children illustrates this: "If you think the system's working, then ask the man who isn't."
Born in Racine, Wisconsin, on June 13, 1938, Fritzi (née Felice Davis) graduated Phi Beta Kappa from the University of Wisconsin.  She continued her education and became one of the first of two women to receive a law degree at the University of Wisconsin Law School.
After law school she moved to Washington, D.C. and worked for Representative Robert Kastenmeier (D—WI).  She quickly became a prominent lawyer and activist spearheading numerous political and cultural initiatives such as the U.S.-Moscow Sister City project, which brought the Kirov and Bolshoi ballet companies to the Kennedy Center, and sparked other cultural exchanges that included ice skaters, chefs, musicians, and cosmonauts.  With characteristic zeal and vigor, Fritzi served as a D.C. delegate for Robert Kennedy's bid for the presidency while pregnant with her third child.
An intrepid seeker of truth, in the 1970s and '80s Fritzi was a lead attorney of the Military Audit Project, which led to exposing Pentagon cost overruns such as purchasing $700 hammers, and also included a bold lawsuit against the Central Intelligence Agency (CIA) and the Department of Defense, exposing a secret operation involving the CIA, billionaire Howard Hughes' Glomar Explorer, and a sunken Russian submarine.  Furthering her quest for peacemaking, she also played a key role in passing the D.C. Nuclear Weapons Freeze Zone referendum. 
While deeply engaged in political and social causes, a twist of providence that Fritzi would never have predicted altered her presumed path.  In 1975, Fritzi and her husband, Edward, a Washington Post financial editor, purchased the Tabard Inn, the oldest running hotel in Washington, D.C.  Rescuing it from demolition, the Cohens took a leap of faith with a kismet "Why not?" outlook and, armed with no business experience but with a passion to preserve the hotel and its community, they created what is now a political and cultural institution in Washington, D.C., as well as a hotel treasured by travelers throughout the globe.  
Their vision for the Tabard eventually included a bar (serving first-rate cocktails) and, pioneering for that time, a restaurant that sourced its food from local farmers and provided many chefs a stepping stone for starting their own successful restaurants, including Nora Pouillon, who later opened the first certified organic restaurant in the U.S., Restaurant Nora.  And, true to their principles, the Cohens started one of the first employee stock ownership plans in 1993.
The Tabard soon became a hub of D.C. life hosting an eclectic crowd from admirals to activists (e.g., George Stephanopoulos to Seymour Hirsh to Howard Dean to Jim Hightower to Bill McKibben).  After the 1979 No Nukes concert on the Washington Mall, musicians such as Joni Mitchell and protesters the likes of Kurt Vonnegut poured into the Tabard's bar and restaurant and partied in solidarity until the wee hours of the morning.  And, over decades, hundreds of civil society leaders, both domestic and international, have convened at the Tabard to plan, celebrate, and commiserate.
The hotel also became a family business with the three children—Jeremiah, Sarah, and Joshua—working in various jobs.  At 12, Sarah often worked at the front desk, handling phone calls and showing guests to their rooms.  (Today Sarah is the founder of Route 11 Potato Chips, an off-shoot of her parents' purchase of a potato farm and foray into creating Tabard Farm Potato Chips.)  Jeremiah later became the general manager of the hotel where he worked for 18 years. 
In 1989, Fritzi and Edward moved to Washington state and revived a Depression-era inn called The Moby Dick.  This experience sparked her environmentalism into high gear.  In a word (that her friends and family are very familiar with!)—Spartina.  For many years, all roads led to Spartina—any conversation with Fritzi eventually turned into a discussion about Spartina.  For over two decades, through legal challenges and other actions, she fought against the use of pesticide combinations sprayed by the state and county that contaminated her tidal flats and oyster beds in order to eliminate a non-native grass, Spartina alterniflora.  In this fight Fritzi courageously challenged many environmental groups that supported the pesticide applications in the name of eliminating a "non-native" species by pointing out that the pesticides were causing more long-term harm on many fronts than was caused by Spartina.  And with characteristic integrity, Fritzi relinquished lucrative profits from her oysters because they were likely contaminated with pesticides.
After Edward's death in 1999, Fritzi continued to expand the Tabard's horizons, integrating her varied interests from music to politics. Sunday evening jazz in the lounge with bassist Victor Dvoskin, who first came to the U.S. via a program begun by the Cohens—the Capitals Citizens' Exchange.  The Tabard hosts a myriad of events and programs on current or emerging issues including biowarfare, a museum of the Palestinian people, and other, often provocative subjects.  The Tabard also increasingly became a platform for Fritzi to bring issues and people she cared about together. A generous networker, Fritzi often invited people for lunch or dinner to discuss an issue she felt they needed to know about, or could provide her knowledge that she needed to know about.  The hours-long meal often turned into plans for an event or project for peace and justice. 
 With unceasing verve, and some good old-fashioned gumption, Fritzi founded numerous other social and environmental organizations throughout the 2000s.  To name a few:  The Fearless Fund, an environmental research group focusing on sustaining ocean resources; the Pierre Sprey Roundtable, a tribute to the military analyst and journalist who worked for military reform; and the Chaucerian Foundation.  Her support and encouragement to organizations and individuals working to make the world a better place was constant and generous.
 While most of her life was devoted to causes in line with the progressive Left, Fritzi was not afraid to cross traditional political lines, challenge the Left on some of its actions and ideologies, and encourage people to consider, or at least listen to views that may not align with their opinions.  One might say Fritzi demonstrated characteristics of The Sympathetic Mind, a phrase from an essay, Two Minds, by one of Fritzi's favorite writers, Wendell Berry.  As Berry notes, The Sympathetic Mind is "preeminently a faithful mind, taking knowingly and willingly the risks required by faith."
 Fritzi, much beloved by friends and family, is survived by her three children and five grandchildren:  Sarah Cohen (with partner Jefferson Burgess), Woodstock, VA., Jeremiah Cohen, (married to Linda Ryden, and grandchildren Rosemary and Henry), Washington, D.C., and Joshua Cohen, (married to Romina Jaque and grandchildren Constanza, Daniel, and Isidora), Winchester, VA.
Her abundant spirit encouraged, activated, and guided so many—may she rest in peace and power (although those of us who knew her are imagining that her "rest" includes carrying on with her quest for justice and peace in her next realm).
As the known life is given up, birdcall
Becomes the only language of the way
The leaves all shine with sudden light, and stay.
The Sabbath Poems, 1979, XII
Wendell Berry