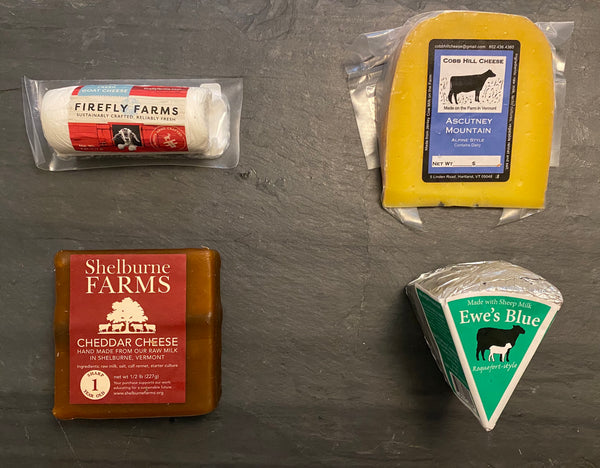 We are donating 100% of the profits of our brand new Heritage Foods Victory Cheese box to the NAACP!
For the first time ever, Heritage Foods is offering cheese and we are donating 100% of the profits to the NAACP.
Inspired by WWI and WWII era Victory Gardens, when Americans were encouraged to take a more active role in their food system, Victory Cheese is a movement to help sustain America's artisan producers by uniting dairy farmers, cheesemakers, chefs, and YOU, the cheese loving public during the COVID-19 crisis and beyond. 
All cheese boxes in the Victory series support a different non-profit. 100% of the profits from sales of our box will go to the NAACP whose vision is to ensure a society in which all individuals have equal rights without discrimination based on race.
The Heritage Victory Cheese Box includes four of our favorite domestically produced cheeses for pairing with Heritage meats: 
Ascutney Mountain, Cobb Hill Cheese, 8oz, raw cow's milk  
Ascutney cheese is made from the milk of a small herd of Jersey cows raised by an intentional farming community in Hartland, Vermont. It's deep yellow in color and a bit like all your  favorite aged styles — Gruyere, cave-aged Cheddar, and Gouda — all wrapped up into one round delicious package. Each wheel is grassy, earthy, hazelnutty, pineappley, and can become downright butterscotchy as it ages. Aged for 8-10 months.
Pair it with our Salami Kit! 
Shelburne Cheddar, Shelburne Farms, 8oz, raw cow's milk
Shelburne Cheddar is made in Vermont, on one of the most beautiful farm estates built in the mid-1800's by a descendant of the Vanderbilt family, from the raw milk of gorgeous Brown Swiss cows and aged for different amounts of time according to how the cheesemaker grades each batch. This one year aged cheddar cheese is delicious and balanced: bright, fruity, and sharp, with a creamy texture and a long finish.
Melt it on our Wagyu burgers or create the ultimate grilled cheese with bacon! 
Ewe's Blue, Old Chatham Sheepherding Co., 6oz, pasteurized sheep's milk
A Roquefort style sheep's milk blue cheese with a melt-in-your mouth buttery texture. Ewe's Blue comes from Old Chatham Sheepherding Co, the largest sheep dairy in the United States, and has just enough barnyardy flavor to remind you that the sheep are there, but finishes with a light caramel, salty-sweet flavor. Aged 4 to 5 months.
Perfect for topping our Wagyu and Akaushi steaks or burgers! 
Firefly Farms Chevre, Firefly Farms, 4oz, pasteurized goat's milk  
Creamy fresh chevre from the southwestern corner of Maryland. Firefly Farms has been making cheese since 2002, and supports a network of local goat and cow dairies by purchasing their milk and turning into top quality cheese! Firefly Farms chevre is light, tangy, and clean… the perfect thing to top a salad, crostini, or fold into pasta. Aged 1-4 weeks.
Add a dollop on your homemade pork ragu!