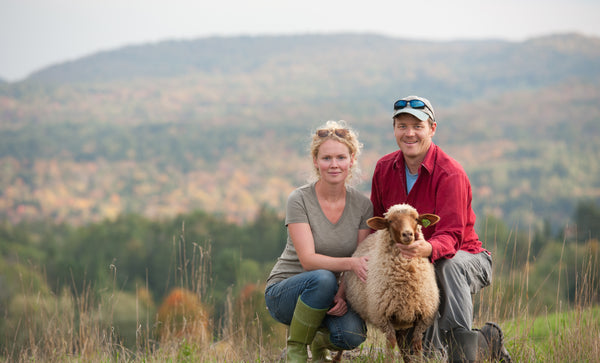 Ben Machin & Grace Bowmer of Tamarack Vermont Sheep Farm
Ben Machin grew up in Vermont on a small organic homestead where his family grew their own food and produced apple juice, apple cider vinegar, and maple syrup for market. After some years working for the US Forest Service as a Smokejumper, Ben came back to Vermont to study and work on various natural conservation projects. Eventually he rekindled his interest in farming.
Raising sheep has been in Ben's blood for generations. His great-grandfather, Eddy Liddell and his wife Nealie, started a Tunis flock in the 1920s. The Tunis flock grew overs the years, winning many awards at local fairs, and providing thousands of lambs for market. In the 1940s Ben's grandfather Herb began to work with Dorset Horn sheet as part of a 4-H project. The farm kept the breeds pure while managing them side-by-side. In 2006, Ben had a conversation with his grandfather, Herb, during Herb's final days that encouraged Ben to dedicate himself to revitalizing the family flock. Ben's decision to purchase the flock ensured that they would remain a family legacy. Ben is the forth generation to manage Tunis and Dorset Horn sheep.
Grace Bowmer joined Ben in 2008 with a background in architecture, site design, landscaping and gardening. Together they purchased land and built a barn. They were ready to get serious about sheep. The Tamarack Sheep Farm is close to where Ben's parents live and he remains involved in his childhood homestead.