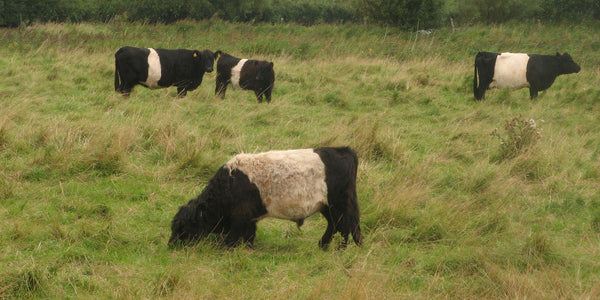 Belted Galloway 1/8 Cattle Shares Are Here!
As we began to ready ourselves for the arrival of our Belted Galloway 1/8 Cattle Shares we realized that the Belties were missing from our tasting notes! We immediately rounded up the crew and invited our friends for an impromptu afternoon of tasting. Here's what we came up with– a complete list that has been discussed, deliberated, and finally decided to be the most accurate words to describe the flavor of Belted Galloway beef. Enjoy!
Belted Galloway Tasting Notes
Clean
Clover
Olive
Hints of Fruit
Simple Richness
Zesty Bright
Bouncy
Textured
Nice Finish
Exquisite
One of Our Favorites 
About the Belted Galloway
There are fewer than 2,500 registered Belties in the US. Belted Galloway's are a heritage breed of cattle originating from Scotland. They are adept grazers and known for their smaller frame and excellent marbling. The meat is herbaceous and grassy in flavor. These animals are well suited to the harsh winters of Central New York and lush pastures in the spring, summer and fall. They are raised on pasture and finished on grain to ensure impeccable marbling.