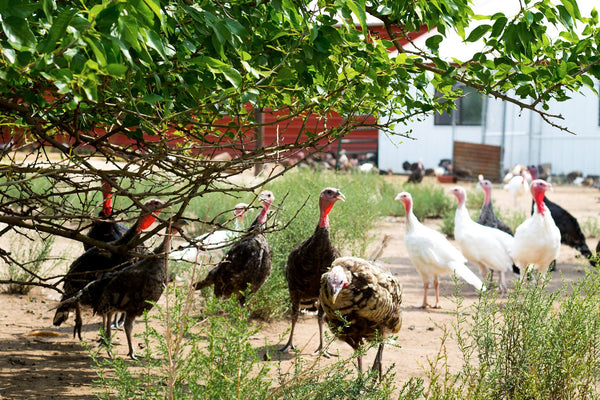 Frank Reese, the ONLY Farmer Selling APA Turkeys Under USDA Certification
The APA is America's oldest agricultural association and the keeper of the standards for poultry breed identification. Certification by the APA is the only label that matters when it comes to truly "heritage" poultry. Frank Reese is the first sustainable commercial farmer to receive certification by the APA for his birds as purebreds, and is currently the only farmer selling APA turkeys under USDA certification.
Frank's birds are descendants of the famous Bird Brothers' Hatchery from 1916, originating from a flock that can be directly traced to 1843 and the legendary Boston Livestock Show. It's a charming story: in 1917, the mother of Frank's future mentor Norman Kardosh – who Frank would meet at a poultry show in 1955, when Frank was just seven years old – received ten Bird Brother Standard Bronze turkey eggs as a wedding present, and passed them on to her son.
Long gone are the days when viable bird eggs were given as wedding gifts (or when there were poultry shows in the center of New York City or Boston), but back then, in a country driven by family farms, there was nothing strange about it at all. Norman's mom had the eggs shipped to Kansas by railcar, where Frank would eventually found his farm. These eggs would be the beginning of a flock of Bronze turkeys that by 2016 would become the only breed of turkey whose lineage could be traced back over 173 years — including the last century in Kansas. 
2018 was truly a banner year for Frank Reese and Good Shepherd Farms. 
"We've been working hard to save a lot more Bourbon Reds," says Frank, "and that was very important, but the biggest thing that has happened to us is the international attention we've received from the film Eating Animals." The film, based on the book of the same title by Jonathan Safran Foer and narrated (and co-produced) by Natalie Portman, received a thunderous response for its theatrical release, and is now headed for a less spectacular but equally important educational release, which means it will be shown in universities and in agricultural programs. "I did so much traveling this year," Frank says, "which was good for the turkeys. As awareness of the new Good Shepherd Institute grows, with help from the MASS Design Group and the Emanuel J. Friedman Foundation, the better it is for our cause — to save these animals from extinction."
Fresh turkeys deliver Tuesday November 20th! Reserve yours today!